Day 1, The Day of Contrast
I took the highway from Salinas towards Monterey, then turned south through the mountains to Carmel Valley Rd. I winded my way through a good part of that, then turned south on Cachagua Rd. This was more of a gravelly road.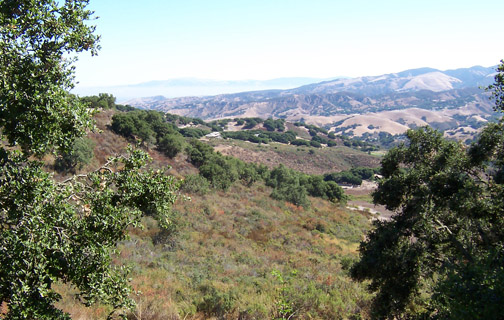 View from Cachagua Rd towards Monterey.
This is a pretty road, nice and twisty, but frequently narrow and gravelly.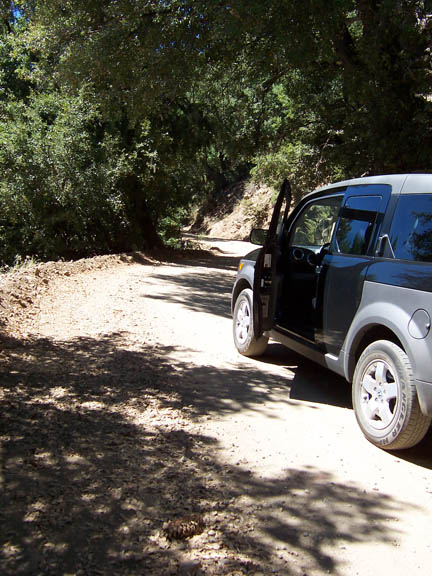 My car on Cachagua Rd.
I took this road for quite away, it turns east and eventually north, then re-connects with Carmel Valley Rd. I turned south off of the road onto a dirt road that eventually dead-ends (about 20-30 miles) called Tassajara Rd. This road would have to be the toughest road I've ever driven, making me want 4-wheel drive so bad I had to stop and think if I ever wanted 4-wheel drive that bad before-- then I remembered the winters in the midwest and I didn't feel so bad. Tassajara Rd is best taken at a speed of 5-10 mph. It's definitely dirt, sometimes thick dirt, with some loose rocks, and lots of big "in-place" rocks, and holes. Some really bumpy spots had me wondering if the road at 5mph was going to give me whiplash!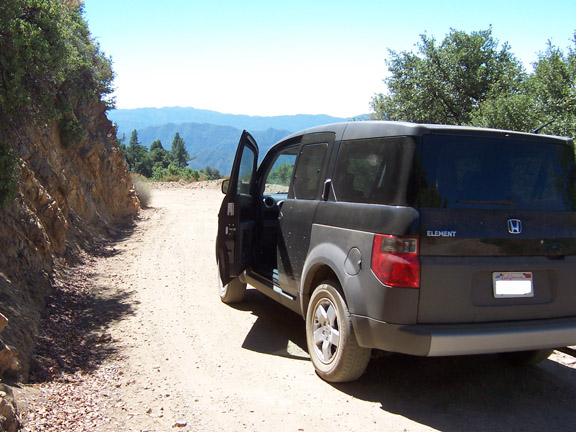 A clearer section of Tassajara Rd, with one of it's frequent hairpin narrow turns (with straight drop off).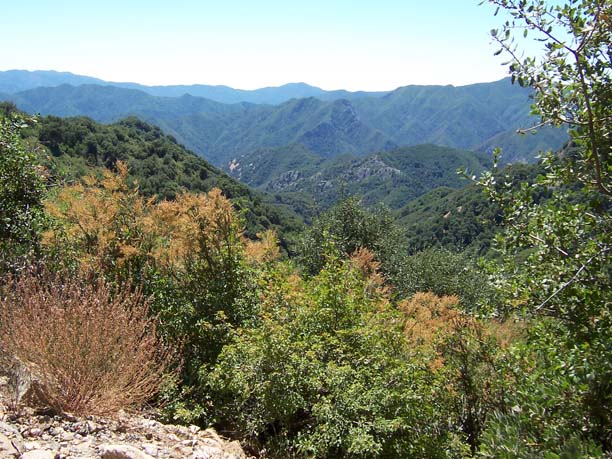 view from the side of Tassajara Rd.
The road was intriguing, and I felt drawn to keep going on it. I finally found White Oaks Campground. I pulled in to the small 7 site campground and drove around. The place was completely deserted. No campers, no camp host, no place to even put your money. Just 7 sites, each with a fire pit, picnic table, and parking spot. There was one out house. No lights. It was spooky there, like a "ghost camp." Great place to stay if you really want to get away from it all! It would probly be a good place for astronomy. I did not see any trail heads leaving from the camp or near the camp. I decided to go on farther down Tassajara Rd, to see if I could find China Camp Campground, and trailheads.
I was going around one of the switchbacks down one of the mountains on Tassajara Road, when I looked next to the road and saw this: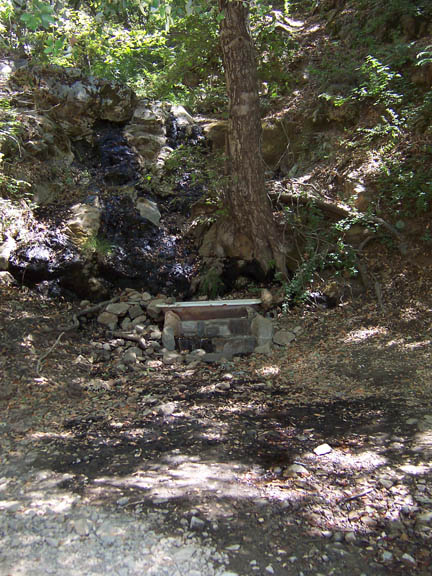 Yes, it's a bathtub next to a natural spring. I decided not to do any more figuring than that.
I came upon China Camp Campground and had to make a sharp right into it. This campground was bigger, about 15 sites. Again, it was completely deserted-- no campers, no camp host, no place for money, not even an out-house here! I had read online about a few trailheads leading out from and around this campground, so I found a nice campsite and parked. I got out to have a walk around. Instantly these flies (looks like houseflies, but half the size) swarmed my face and ears. I ran away from them, farther into the campground middle to do some looking. They instantly swarmed again when I stopped. I ran around a good part of the campground, pulling my hat over my ears-- I bet I was sure a sight to see. I wasn't seeing any trailheads. I decided I wanted to drive farther down the dirt road to see where it ended, and see if I could find any trailheads. As I went to leave the campground, I got stuck in the dirt on a slope. My tires were just spinning and whipping up all this dirt. I put it in reverse and turned, still stuck. Three times I reversed her and tried before I was moving forward. That car was so packed with dirt after that! But at least I'm back on the road. I decided that I didn't like that campground, and I would probly stay at the spooky White Oaks Campground, but I hadn't decided for sure. I went on down Tassajara Road. I immediately saw trail heads for two major trails that went for several miles and intersected with other trails. There is an elaborate trail system in the Ventana wilderness that connects Carmel with Big Sur and much of the region. I decided I'd come back to the trails, but I wanted to drive to the end of the road.
I finally reached the end of the road. I had maybe seen 2 cars the whole time I was on the road (a jeep wrangler and a subaru outback, oh and a dirt bike), but suddenly there was this big parking lot with about 20 cars/trucks in it! I drove through the parking lot and found that there was a business there. This was the private property of the Tassajara Zen Mountain Center-- the first Zen monastery training center in the west, a division of the San Francisco Zen Center, one of the largest Buddhist Sanghas outside of Asia. Here's a link to their website: Tassajara Zen Mountain Center.
I turned around and headed back up. I pulled over by one of the trails that I had seen coming down. I got my tri-pod out and took this picture of myself at the trailhead: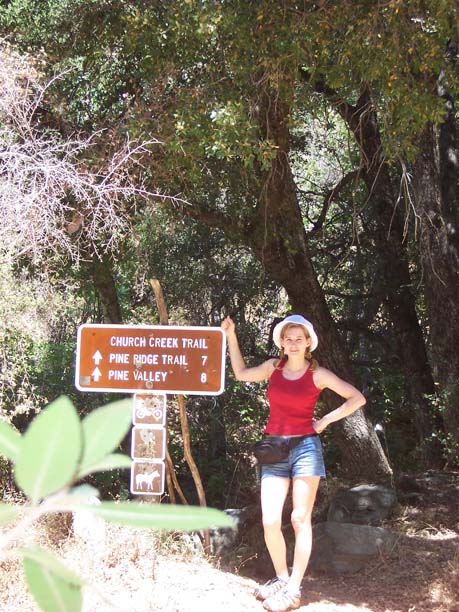 There I am, with two layers of OFF (deet bug repellent) on.
This trail was disappointing at first. It was rather overgrown, not very scenic, full of flies, and poison oak was everywhere. I went about 1/3 of a mile, and it wasn't getting any better. I decided to turn around, and go higher up to another trail.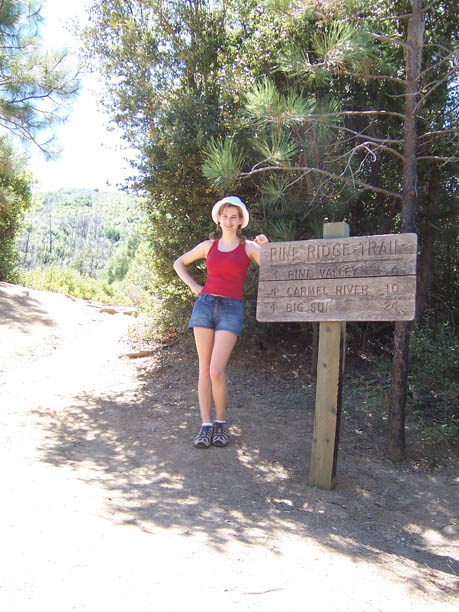 Here I am with the tri-pod shot of myself again at the trail head. This trail was higher up, and I had read about this trail online. It said online that there was a waterfall on this trail, but I didn't know how far. Obviously this trail goes for quite a ways, as the sign there shows it's 24 miles to Big Sur. I put away the tri-pod in the car, and decided that since I hadn't seen any where with a restroom, I'd have to make a stop in the bushes behind the car before heading out. I was marking my territory by the car too. lol.
This trail started out alright, it was pretty wide, minimal flies, well traveled.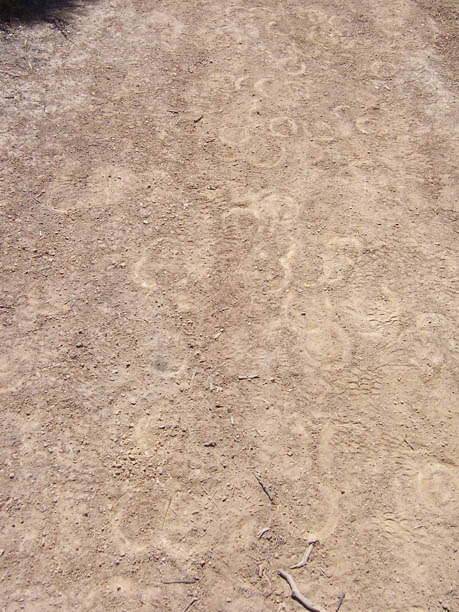 Here's the ground just starting out. Lots of horses use this, I guess.
It was a hot day. I was not prepared for how hot it was. I had left home with a jacket (I'm lucky if it ever breaks 70 in Salinas or Monterey). In Big Sur, it's rare to get much higher than the low 70's as well. But in-between, in this Carmel Valley, ugh, 90's! Sometimes there was a nice breeze though. I was definitely glad I had shorts and a tank top, I was sweating through them even!
As I walked along, I wondered if I was ever going to see people. Then I wondered if I was going to see any animals, especially ones I didn't really want to see. I was aware that I was in kind of an open area, and there was a bit of a small rock cliff next to me with brush. Perfect place for a cat-- a wild cat. Then, as if to answer my thoughts, I hear a loud rustling in the bushes, much larger sounding than a lizard or squirrel. I hadn't heard anything that big in the bushes on one of the hikes before. I froze and listened. I heard it just a little more. I stood thinking, then walked forward. I watched the ground. Then I saw cat tracks. They were headed in the direction I had just come from. They were so much like Ashley's little cat prints, only these were a little bigger. I tried to get a picture of one here: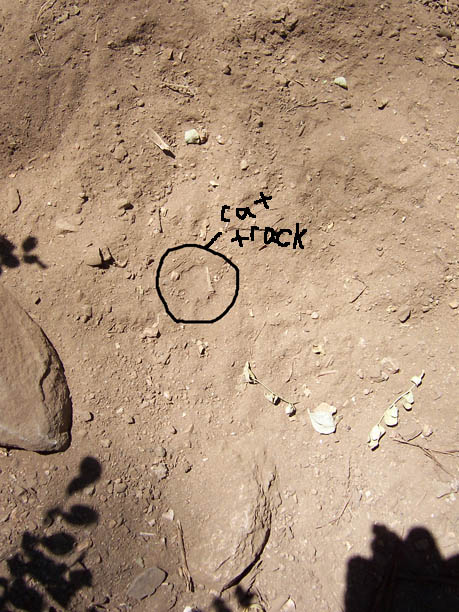 I figured, well, it's only a little bigger than Ashley, if it comes after me, I can take it. I went on.
I came to some great view spots, and this really was a ridge trail, I had views on both sides to see.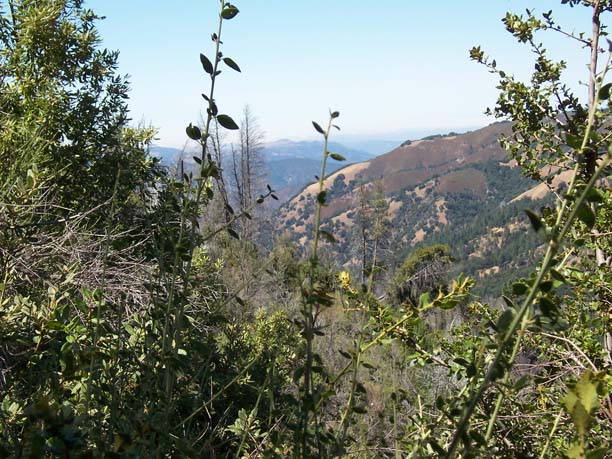 looking out into Carmel Valley
I had put on more OFF before this hike, but the flies were starting to swarm around my face again.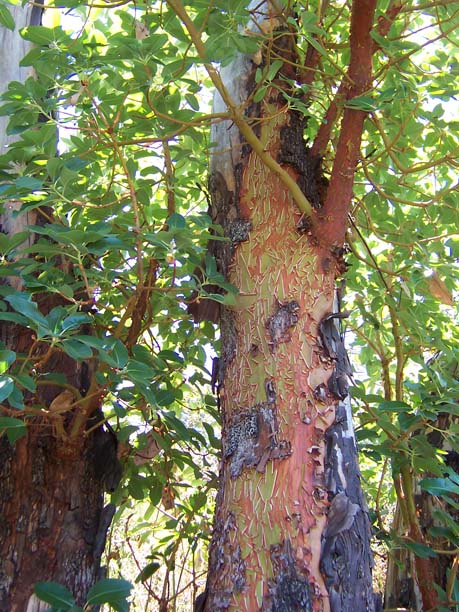 I came upon this tree that I had never seen before. I have since learned that this is actually a larger specimen of it, and it's called a Madrone Tree. It's found in the Ventana wilderness in hotter, more arid locations. I can attest, this was a hot, arid location. ugh.
The day seemed to grow hotter as I went on. It was almost impossible to stop and rest with the horrible flies going right into my eyes and ears. a constant buzz, buzz, buzz, buzz, buzz, buzz, buzz, buzz, buzz, buzz, buzz, buzz, buzz, buzz, buzz, buzz, buzz, buzz, buzz, buzz, buzz, buzz, buzz, buzz, buzz, buzz, buzz, buzz, buzz, buzz, buzz, buzz, buzz, buzz, buzz, buzz, buzz, buzz, buzz, buzz, buzz, buzz, buzz, buzz, buzz, buzz, buzz, buzz, buzz, buzz, buzz, buzz, buzz, buzz, buzz, buzz, buzz, buzz, buzz, buzz, buzz, buzz, buzz, buzz, buzz, buzz, buzz, buzz, buzz, buzz, buzz, buzz, buzz, buzz, buzz, buzz, buzz, buzz, buzz, buzz, BUZZ!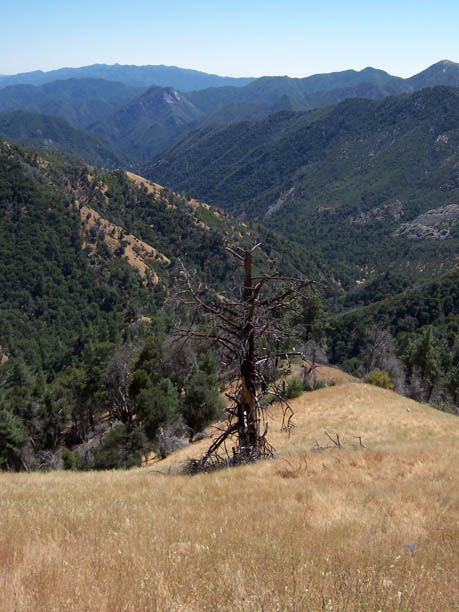 A tree that felt as hot and isolated as I did.
I kept going with the hope of a waterfall. I love waterfalls. Around every turn, I'd strain to hear water, always none. I wondered about all the trails going all the miles through the wilderness. I wondered if anyone just headed out and lived in this wilderness, if the trails were well known by certain people who might call them "home."
I found a little shade to rest with less flies. I looked up at a grand Oak Tree.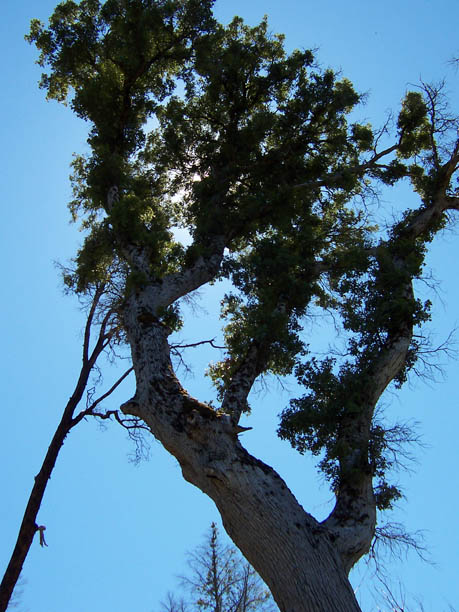 I decided about this time that I was not a Chaparral-- Oak and brush type of girl. I decided I was most definitely an Alpine, Redwood, thick forest type of girl. I decided that I was changing the name of Carmel Valley to Carm-hell Valley, and I was leaving. I had walked that trail for almost 2 miles, and no sound of water, no sign of water. This just wasn't for me. I was going to......hmm, where the heck was I going to? Then I decided, I'm going to Big Sur!
I couldn't get off that trail fast enough then. I wore myself out going so fast in the heat. My water was getting low. I had to stop more. The bugs were getting worse. I just wanted to get the heck out of there! I had Big Sur on my mind, and I was excited. I was relieved with the idea of not staying in a deserted campground too.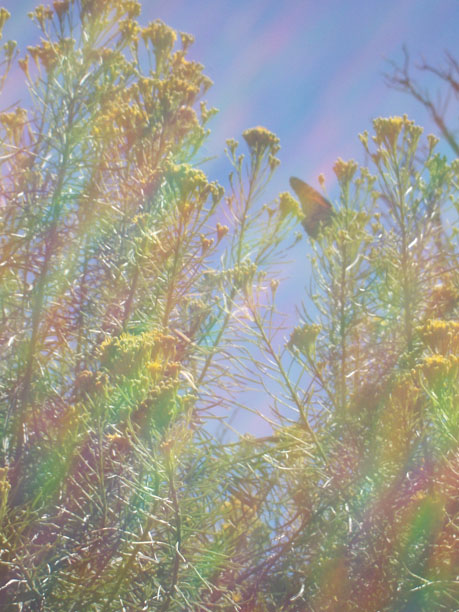 On my way out, I was treated to a monarch butterfly. Hot sun diluted my picture :(.
I finally got back to the car. Didn't even slow down at the cat part. I downed some cold water from the cooler, washed off a little, and jumped in the car. Then I got stuck on a dirt slope again! ah! I just wanted to get on to Big Sur! Luckily I got unstuck fairly easy this time. That dirt is something else! I blasted the air conditioner, and wound my way back up the narrow bumpy road. Beethoven played on the CD player.
I started to think about where I'd stay the night, on my way there. I decided to chance it with one of the big campgrounds in the town of Big Sur, one of the ones that have permanent signs up in the summer that say "campground full." Most of the schools around here are back in session and this was a Tuesday night, so I figured my chances were better.
I decided to try my chances at Pfeiffer Big Sur State Park. It has a permanent sign up that says "campground full," but I thought I'd see if it really was. I found that out of their 218 sites, they had 4 left, and there were 3 people behind me asking the same thing. The sites were all premium (on the river) and cost more, but that's ok. I had to drive one mile through the campground to get to my site (#179). What a difference from a 6-10 site deserted campground to this! When I got out of my car to get my site, I put my jacket on right away, this wasn't 90's heat, this was mid-upper 60's chill! No flies, ahhhhh. What a difference going around one set of mountains can make!
As I drove to my campsite, I passed a lodge, cabins, a high-end souvenir store, a restaurant, a camp store, a mini-laundromat, and numerous shower/restroom houses. Big difference from 1 outhouse! lol. I decided to forego my hot dogs and popcorn planned dinner for the restaurant. I ended up having sauteed scallops (in a teriyaki type sauce), asparagus, garlic mashed potatoes, poppy seed bread (yum!), and rainbow sherbet for desert. It was so good! This restaurant ended up being a fine 4-star place, and I felt a little silly with my dirt-caked legs/shoes, dirty shorts, jacket-over-tank-top, and hat (probly reeking of dirt and deet), but I got great service! I had overheard when I was getting my campsite that there would be a free concert at the big campfire center by the day-use parking. It turns out that the singer/fiddler/banjo-player/guitar-player (one-man-band) was having dinner two tables over from me, and when he was finished, he went to all the tables in the restaurant that had people dining-- about 5-- (including mine) and personally invited all of us to his free concert at 8pm. How neat is that? I finished my meal and headed back to camp to change to jeans and sandals (worked up blisters on both my heels that day) and hurry off to the concert (had to walk a mile for it).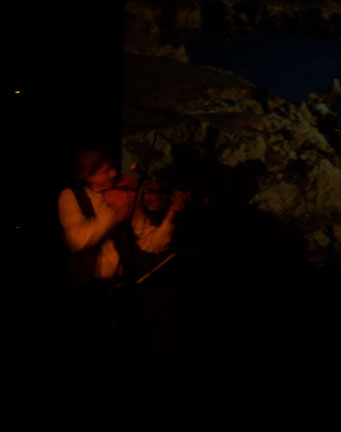 There's the one-man-band playing the fiddle.
The concert turned out to be pretty good. There was a huge seating area of benches and it was almost full. There were people that brought folding chairs too. The music was country and folk music, most of it written by the musician himself, and most of it about the central California coast and the redwoods.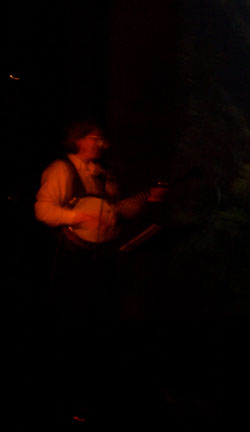 The one-man-band plays the banjo.
He also had a slide show on a projector screen with images from around the park and nearby parks. He taught about different areas to explore, history, and nature facts. It was really great! He said that one of his songs was inspired by his wife's PMS in a park's parking lot one day, lol. He passed out tambourines and maracas to children and had them play during parts of songs. He asked the audience to clap various rhythms for some songs, and had us sing along for various songs. It was very entertaining, and the hour went fast.
I wasn't looking forward to walking back to my campsite. In my brilliance to avoid hurting my blisters on the backs of my heels and wear my sandals, I didn't stop to think that these sandals are my shower-shoes and have a brillo-pad type of bottom and had worn small sores on the BOTTOM of my heels. ugh. I walked through the day-use parking lot that several people used to drive to the concert. I wondered about getting a ride. Then I saw a big new pick up truck loading up the bed with adults and children (plus the full size extended cab filling up). I went up and asked one of the women if they were going to the campground, and she said "yes." Then I asked if she minded if I climb in the bed to hitch a ride to my campsite, and she said "sure! jump on in." I climbed in quickly and sat in the corner, said "hi" to the women, man, and children getting in with me. The driver had been fiddling with something when I had asked to come along, then was staring at me climbing in his truck. The women laughed at him and told him I was hitching a ride, I told him that I had asked, and was it ok with him, and then he laughed and said "sure" and then asked me what campsite. Turns out they were about 12 sites before me, so it was perfect. On the way I learned that it was 3 families all camping together, and they were from Newport Beach! lol. Small world. I told them that I just lived there last year, and just moved from Irvine, they thought that was neat too. When we got to their site, we all got out and I thanked them again for the ride.
I headed to my site, and decided to start a fire for relaxation and marshmallow roasting. It was real nice, and I had my new camp chair with me to kick back in. I was kicked back, with my feet (in my hiking shoes) on the fire ring, warming against the fire. After a while, I realized I smelled hot rubber, and smoke was coming from my feet! AHHHHH! I jumped up and started rubbing my feet in the dirt. Standing on them sent burning heat into my feet. AHHHHHH! I must have looked so silly jumping up and down, dancing around my fire at almost 10pm! lol. Finally the heat in my feet was bearable and the smoking stop, but the smell continued. I finished my fire off shortly after and went to bed. I slept in my Honda Element again-- so cozy! I was reading John Steinbeck's The Pearl. I have read two other of his books now-- Of Mice and Men, and The Grapes of Wrath. His writing is so descriptive, so moving, really good stuff. It's especially enchanting to read his work in the land that it originated, and frequently is about.
So ends August 23, 2005, what a difference night and day made on this day!