Yosemite September 20, 26, & 27th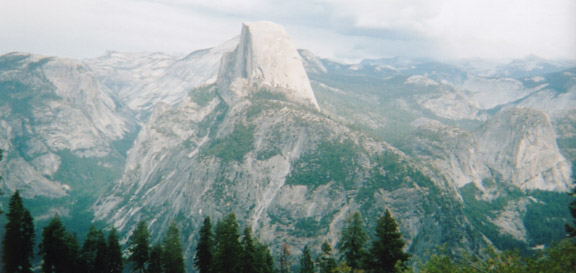 For my last day during my 4-day stretch at Yosemite, I only drove to Glacier Point, got out of my car, took this picture of Half Dome (and a couple others that aren't as good), then got in my car and came home! I still could barely walk from the hike at Half Dome 2 days prior. I have never been that sore in my life!! It would turn out that I was limping the next night at work as well! Anyway, looking from this spot, I fully appreciate my soreness as I see that I had started my hike from the bottom of this valley, and went all the way to the top of that huge piece of granite!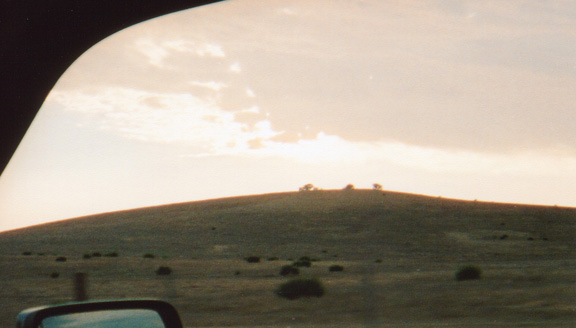 Pretty hill with the sunset on my way home from Yosemite. I had such a good time, that I'm planning my next trip back!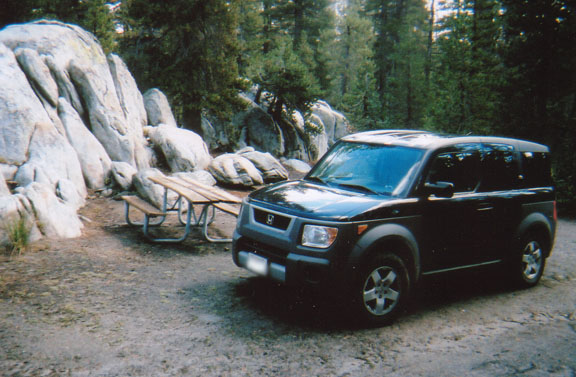 6 days later, I'm back! My first day was just driving there, and a peaceful evening at my campsite. This is Porcupine Flats again, but towards the front of the campground. I had set up "camp" in my vehicle, made the fire, and cooked my hot dogs when the first rain drops fell. Luckily, I had pretty much everything in the car, so I just took my cooler and plate of food in the car, and ate in the back. There were several strong thunderstorms that rolled through-- it was so wonderful! The sound of the rain on the roof of my car was so enchanting as I lay back in my warm and cozy sleeping bag (with extra plush blanky, and cozy PJ's), and read a book. I ran the heater and some mozart for awhile as well. Around 1am, I popped my head out to a clear black sky, drowned by the dazzle of millions of stars. It took my breath away. I went to the port-a-pottie close to my campsite, then as I headed back to the car, a loud clash of thunder and flash of lightning lit up the campground. I scurried on a little faster, and cozied back in. This was a great night!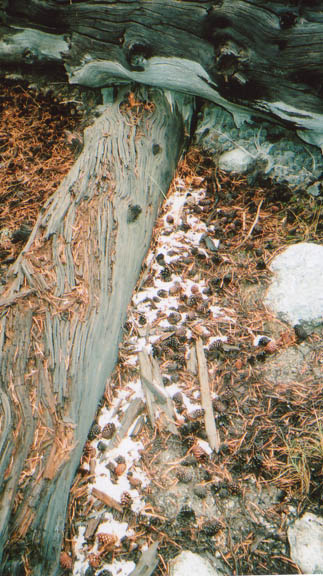 The next day (September 27, 2005) I drove towards Tuolumne Meadows, and found a nice hiking spot. I soon found that last night's storm hadn't just been pelting large raindrops, but hail as well! I liked this gathering of hail here, with the little pine cones of the big trees.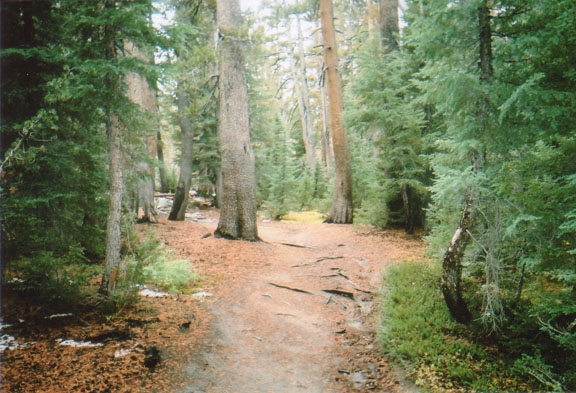 This was a fairly dense forest, with bear warning signs, and missing person signs at the trail head. I hadn't seen anyone on this trail, so I decided to make some marks--just in case--I wrote in the dirt with a stick 9/27/05 KLM, and an arrow in the direction I was heading. I did this twice, but towards the latter part of the trail, I ran into several other hikers, so they probly hiked back past my markings and laughed. Oh well, I don't care.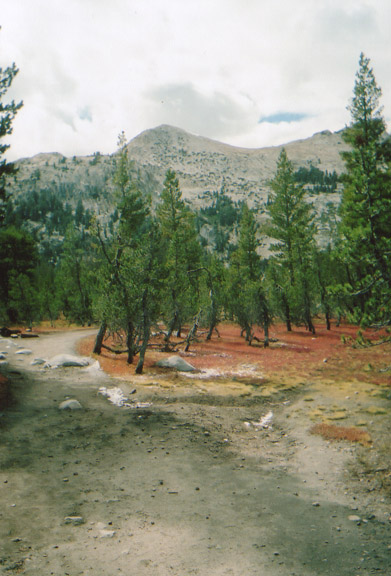 Farther along on the hike. Pure wilderness. Lots of strange noises, no people (for the most part), absolutely fabulous.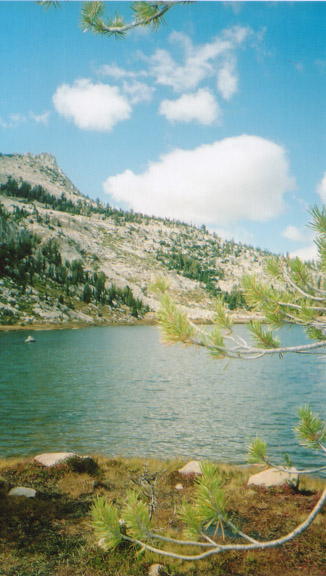 The end of my trail, at Unicorn Peak above the lake (forgot the lake's name, too lazy to go looking for the map right now). This lake was very clear, I could see all sorts of trees that had fallen in long ago, and lots of rocks. It was a beautiful day.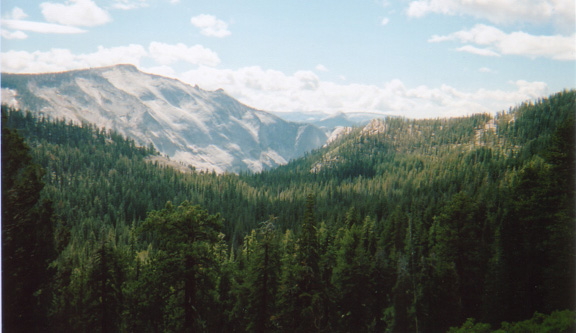 As I walked back on the path, I thought about what I had learned at the nature center in the valley about the geographical changes here. The lake I had hiked to had been much larger. A large part of it is now a marsh that I had to hike through. Prior to the marsh, I was hiking through meadow--this meadow had already gone through it's marsh stage, and before that was part of the lake. At the edge of the meadow was a section of early growth forest, and farther from the lake from that was the dense forest. The picture above of a section of Tuolumne Meadows has gone through that same transformation. Such a snapshot in time.
I had to go home at this point, and I knew I couldn't come back through the winter (the above picture is probly 20-50 feet under snow in the winter! The road I was on for this part of my trip (Tioga Road) was to be closing for the winter within the week. I'm hoping to go again soon to Yosemite-- truly a magical place.