Big Sur camping Day 2 part II
After my light lunch, Debbie and I hooked up again with her dogs, and walked them down to the beach.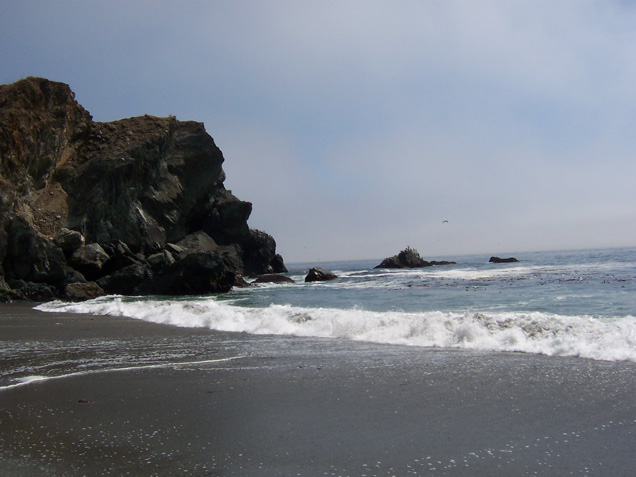 The beach at Limekiln State Park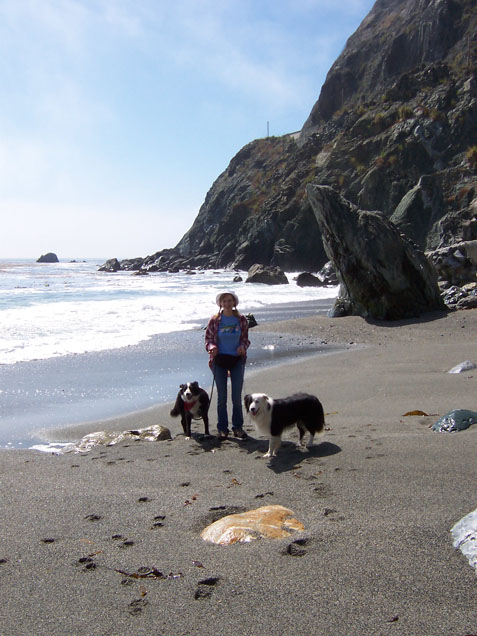 Me with Noah and Ace at the beach. See the big rock jutting up behind me? I go and climb that in a little bit, Debbie takes pictures of me.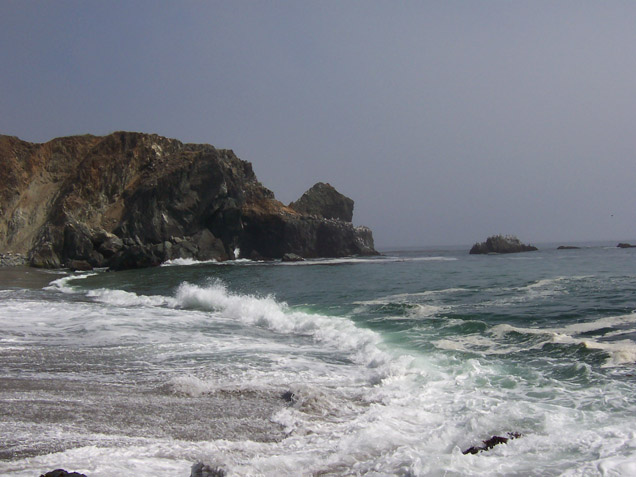 Beach at Limekiln, can you see the waves crashing in the opening in the rock? It goes clear through there.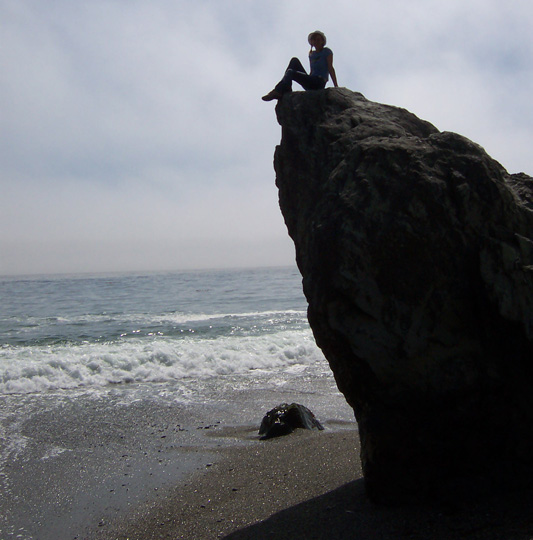 Me on top of that big rock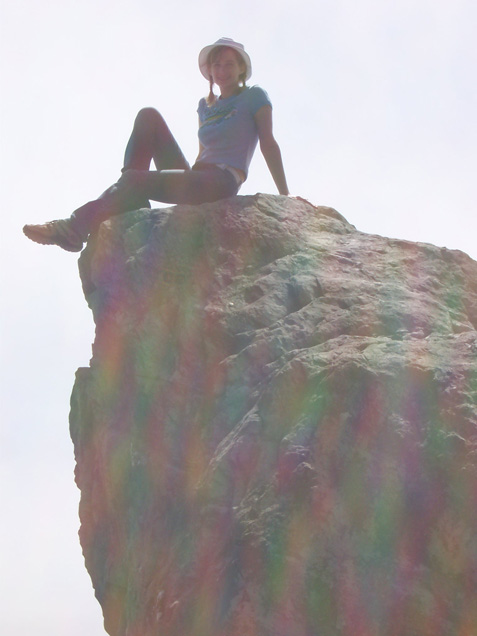 Close up of me on the big rock.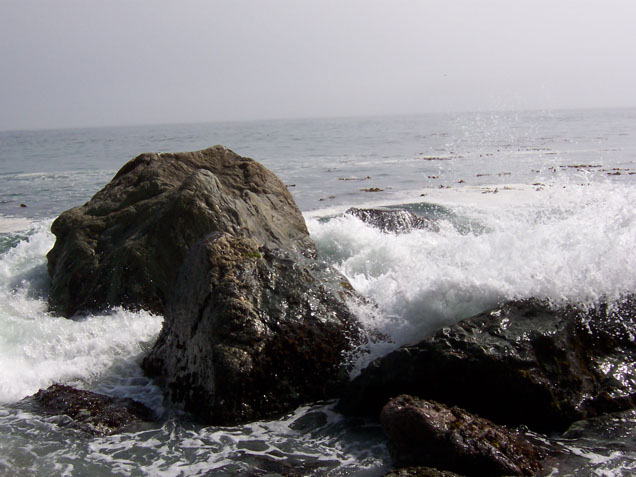 waves crashing at the beach.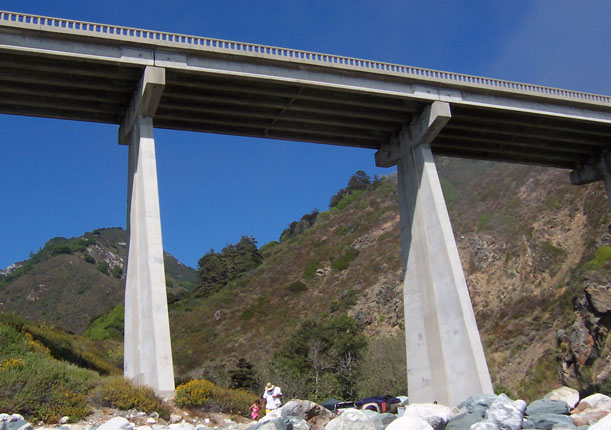 Looking back at camp, and up at Highway 1 from the rocks on the beach.
After walking around the stream some, we walk back to camp, and I offer to watch the dogs so Debbie and her husband can hike together. He declines, so Debbie and I go for a hike just us.
I walk her back to her campsite, then I take my book "The Grapes of Wrath" back into the woods, and read it by the stream, on a log in a beam of sunshine. When the sunbeam finally went away, I got up, and headed back to camp. I could see that the sun was still shining at the beach area, so I headed that way with my book. I ran into Farah by her campsite. She said she had just come from a walk up the hill to the road on the cliff overlooking the ocean, and she had seen a slew of whales out at sea! I thanked her for the tip and headed up. I crossed the Pacific Coast Highway (Hwy 1 here) and walked along the guardrail edging a cliff over the ocean. I almost accidentally stepped on a dead raccoon. ugh. I found a good spot farther down and around a bend in the road to sit away from the road, overlooking the water, where I could watch the sun set.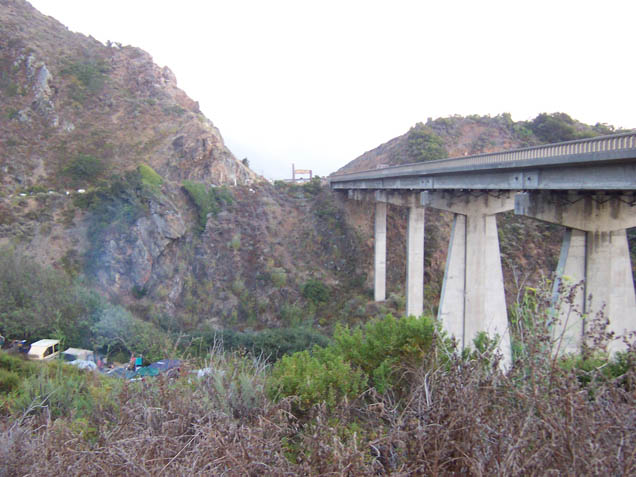 Looking at the entrance of the park from almost at Highway 1, below are the beach campsites.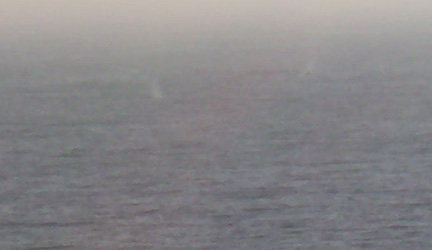 THAR SHE BLOWS! Sure enough there were whales! 6 of them, and you can see 3-4 of them here.
I tried to get a close-up of the whale...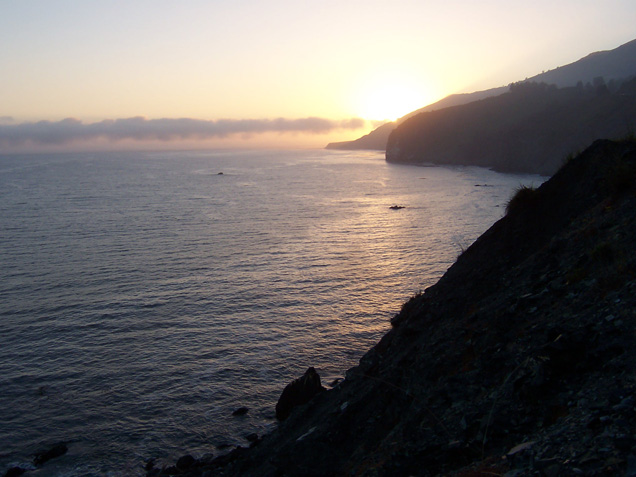 and yet watch the sunset unfold in front of me.
One last shot at the whales...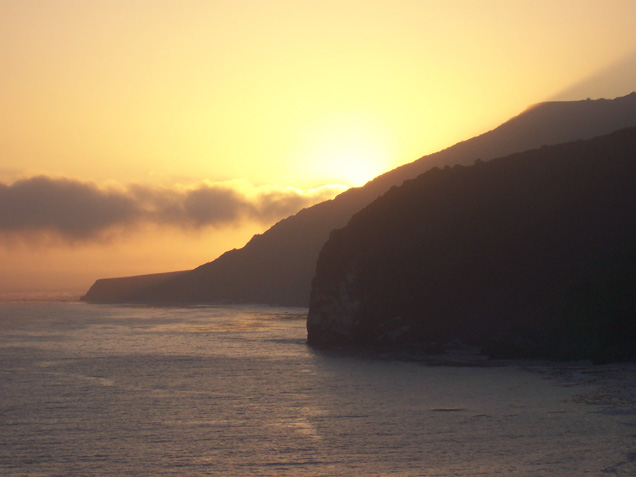 and one last shot at the sun.
What a great day. I headed back to camp for dinner. I was stopped by Farah on my way back, who invited me to a tri-tip dinner. I was really torn, but I ended up declining, as I wanted to build my own fire tonight (last night out) and tend to it. So I went to camp and started in on it. It started right away. A new campsite had been set up between me and Debbie's campsite. It was a couple in their 30's. I roasted my hot dogs and ate them. Debbie stopped by and visited for a little bit, bringing me a large log as a "housewarming gift." lol. Then I sat by the fire working on poetry, about to roast marshmallows when the girl from the campsite next to mine came over. I learned her name was Amy, and she wanted to know if I was interested in playing Scrabble with her and her husband. I accepted, and came down. They acted like they didn't play that much, but I found out quickly that this was a fierce competition with them, and I just let them go at it. I put words down, but didn't try to take away from their cut-throat war. I came in last place, but close, Amy won the game. I talked of marshmallows, but Amy pointed out that my fire had died, and offered theirs. I accepted and offered marshmallows and roasting sticks. She said they had neither because her husband didn't like them, but she'd gladly take me up on it. Amy and I downed almost a dozen marshmallows!
After marshmallows, Amy and I went down to the bathrooms together, then we each retired for the night. I went to read, but found I was too tired. I went right to sleep and slept for 10 hours straight! I had just enough time to get up and get ready for the day and put the car back together when it was check-out time from the park.
DAY 3 | ADVENTURES | HOME