Fremont Peak State Park (California)
April 30, 2006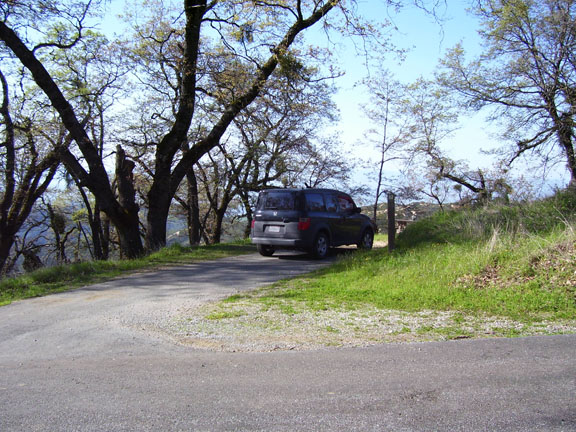 Here's my campsite in the Valley View Campground (one of two campgrounds in the park) at Fremont Peak State Park. I love this spot, there's a cliff off one side, a hill on the other, and woods at the back--nice and private! I was just a short walk to the bathroom as well.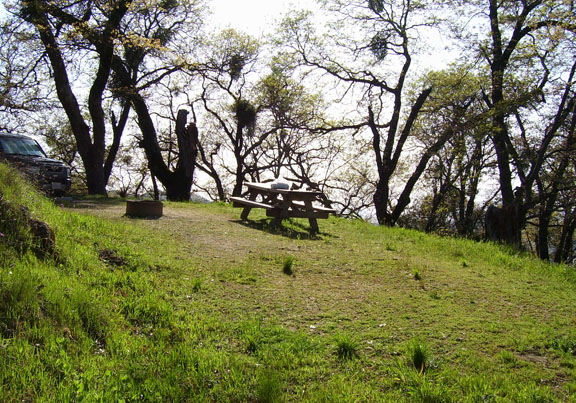 Another view of the campsite from the other side. No, it wasn't at an angle, I was holding the camera crooked. This park is only about 25 minutes from where I live-- it's main peaks tower over the east skyline. I wanted to go camping again, and it was a good place to ease back in to it (this is my first camping trip since getting the kittens).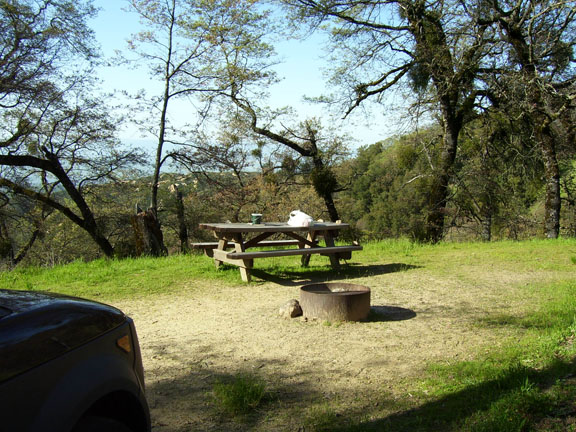 One more shot of the campsite, which I absolutely loved. There were only about 3 other campers in this campground with me--although I could have missed someone, seeing how I was so secluded ;).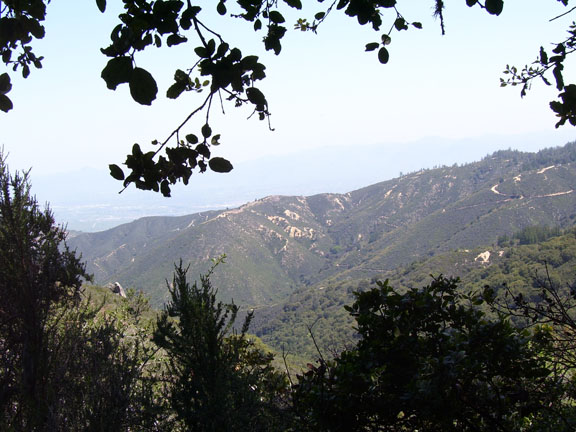 Here's a view of the valley on the Valley View trail. This trail took me around the entire park (and was called different names at different parts). It looked longer on the map, but I did it all in 2-3 hours.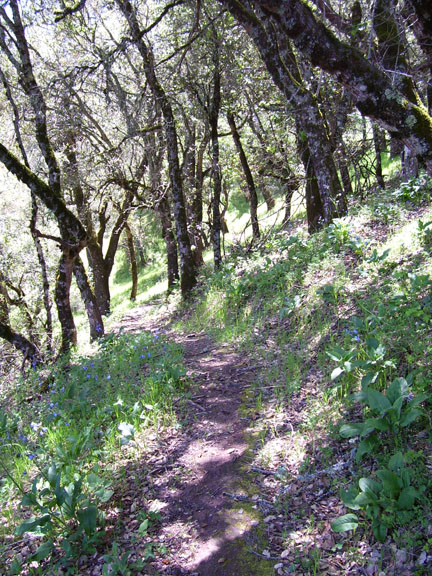 Although this part of the trail looks alright, much of it was overgrown. One part even had a tree down over it, and was impassable. I climbed up the hill though, to go over the tree--I wasn't about to turn around. Unfortunately I'm now dealing with poison ivy on both arms (around the elbows and inner biceps) and on my neck/chin area. I've stocked up on calamine lotion and gauze, and I'm trying to wear long sleeves to keep from spreading--ugh.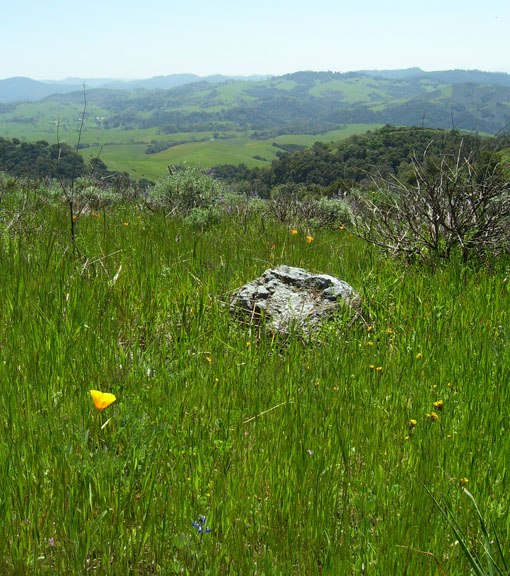 Another view from my hike on the first day--pretty California poppy blooming. This was on the far side of the park.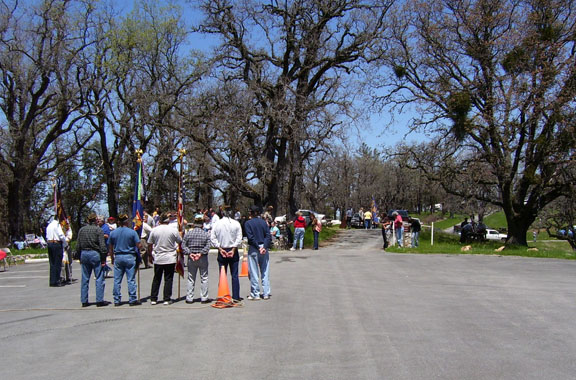 When I got back to the area near the campground, I arrived to this. Apparently I picked the same day to be in the park that the VFW and Native Daughters of the Golden West picked to commemorate the 160th anniversary of John Fremont raising the first American flag in the state of California, on Fremont Peak. I sat and listened to the speeches--which were actually good and patriotic. They announced that they were having free games for children and a free to the public barbeque, but I wanted the solitude of my campsite.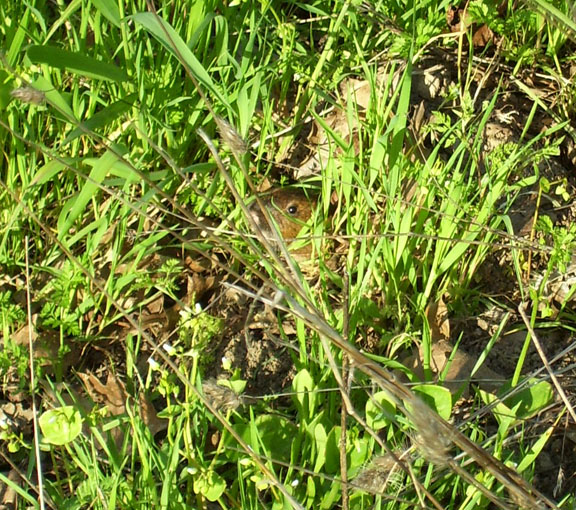 As I sat at my campsite, lunch eaten, doing a sudoku puzzle (in ink!), I realized that I wasn't as alone as I thought. A little shrew was gathering grass from his hole in the ground near my picnic table. After he was done, he went in his hole, and shut the door by putting fresh dirt into the opening! I guess he thought I might sneak in after him.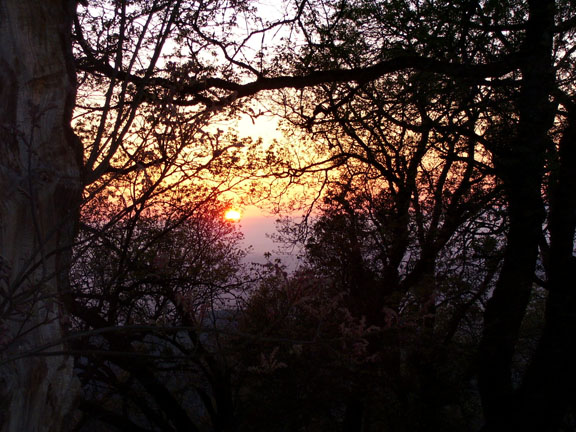 View from my campsite as the sun sets over mountain in the distance. I wish I had one of those panoramic cameras-- the sky was incredible.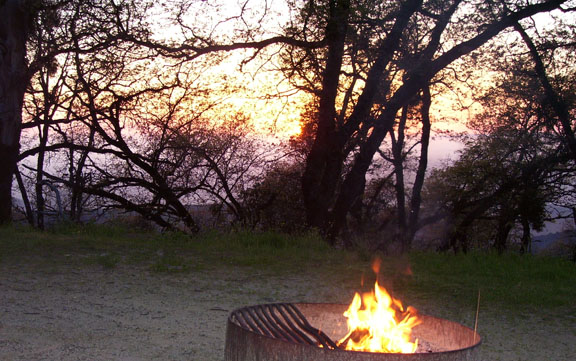 The sunset with my campfire in the foreground. I used some of those fake logs (wax and sawdust) this time, since I wasn't cooking anything. It was actually quite nice, and I plan to do it again.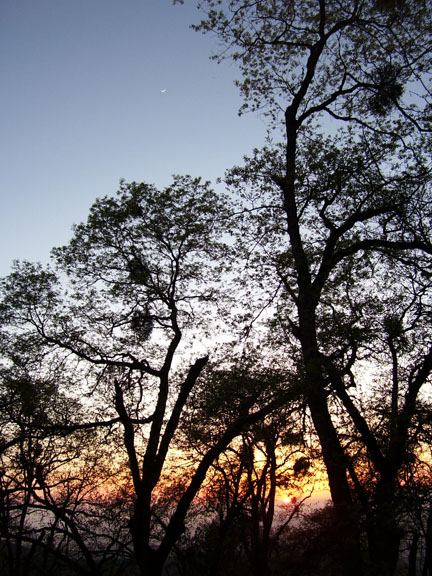 I love this picture of the sun setting, and the maiden moon waxing above.
I was exhausted by nightfall, and was asleep by 10pm! I guess I had been up since 5am. It was a comfy sleep, I was glad I had my sleeping bag that has the option of only a fleece topper--it was warm that night!
PAGE 2 | ADVENTURES | HOME