Day 4: May 22, 2006
My final morning with Uncle Gene (breakfast at Perko's!). Then I would be off to the mountains, then back home in Monterey County. This day was a little drizzly, but not as bad as the previous day. I had a trail in mind, but I had a heck of a time finding it! After driving back and forth, for a couple hours, and asking a ranger, I was able to figure out that the parking lot in my book no longer existed. I parked along the roadside (ranger had said this was an ok thing to do) and found my way back to the trail.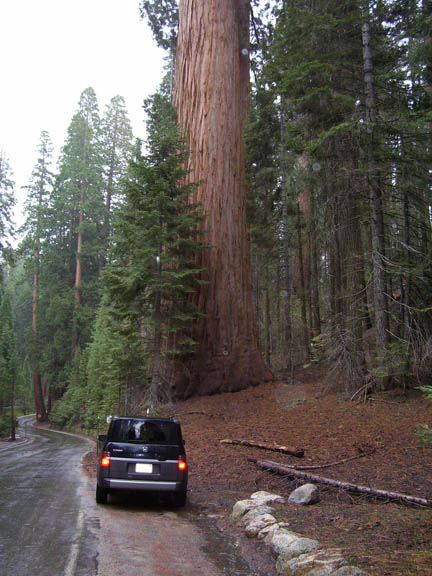 My car parked along the roadside. The trail I wanted was just inside the woods from here.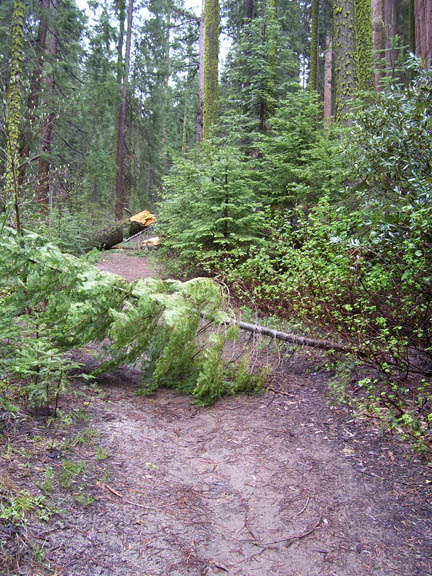 This was how my trail started-- not all that promising, and since this seemed like it wasn't being currently maintained, my chances of losing my trail were high.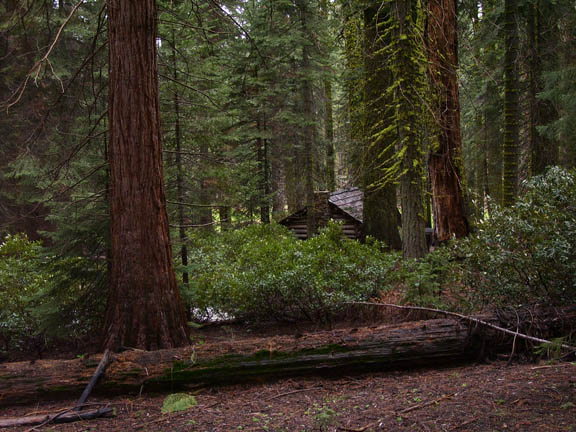 What a cute little cabin to come across, deep in the forest! I looked at my map, and found that this was in fact on my map, along with a note that this was a spot that one was more likely to encounter a bear or two. I was on the look out.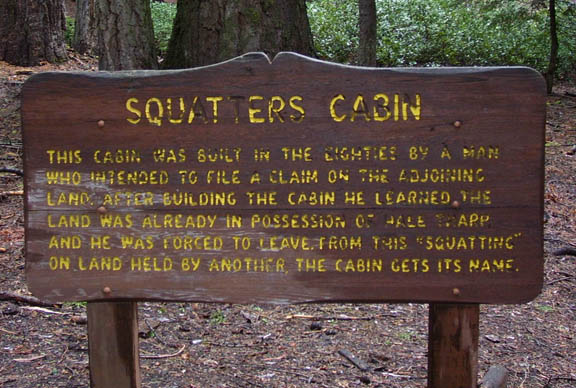 The sign out front. I am assuming the sign means "1880's," especially since the man mentioned died in the early part of the 1900's.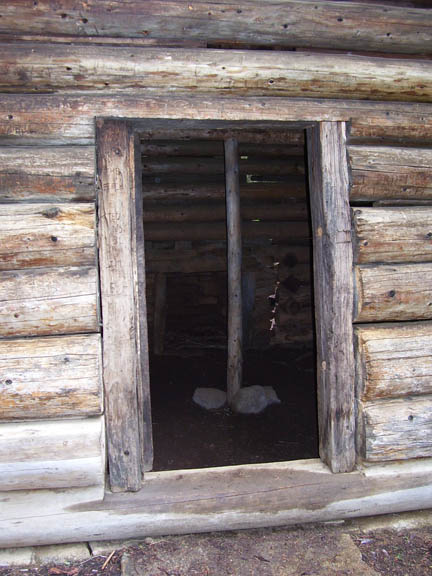 Standing outside the cabin's door, looking in.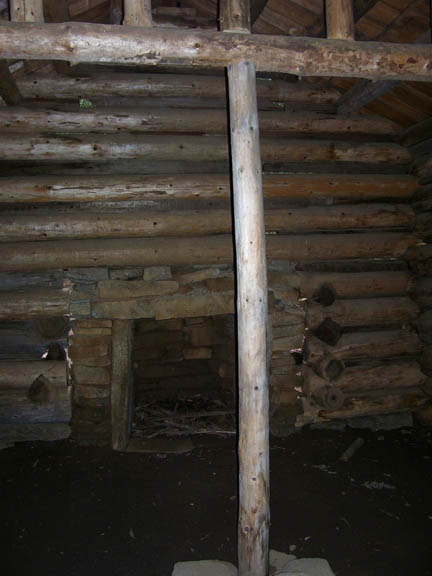 Standing in the cabin, looking at the fireplace.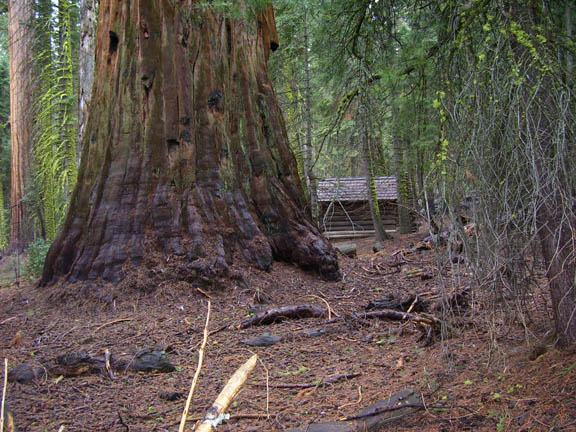 A last look at the cabin, beyond a giant sequoia. No bears either.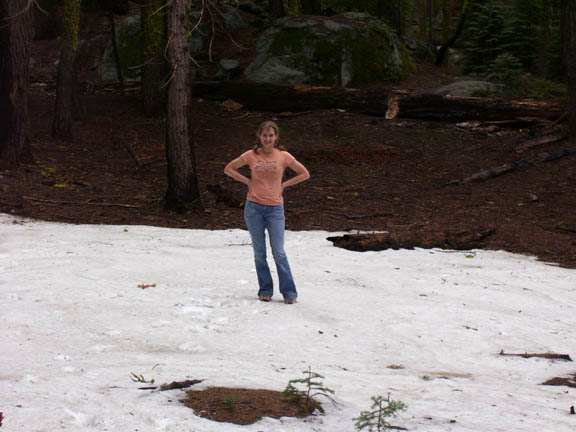 A passing hiker and I exchanged camera shots on this large spread of snow. The weather was much more tolerable today!
My hike came to a close shortly after this. The rest of what I was walking through was burned out forest. This is probly why the trail I was originally seeking wasn't so well marked. It got even worse through the burnt section, and I completely lost any sign of the trail. I did have the sounds of cars to follow, which led me to the road, that would eventually lead me to my car. I didn't want to walk on the road, as there was frequently no shoulder, so I hiked along a hill above the road. This was easy most of the times, but got me into some snafus a few times. Once I was sliding down the hill towards the road, and another time, I had to jump a waterfall, but it all worked out in the end. By the time my car was in sight, it had started to rain, and I was very happy to be with my car.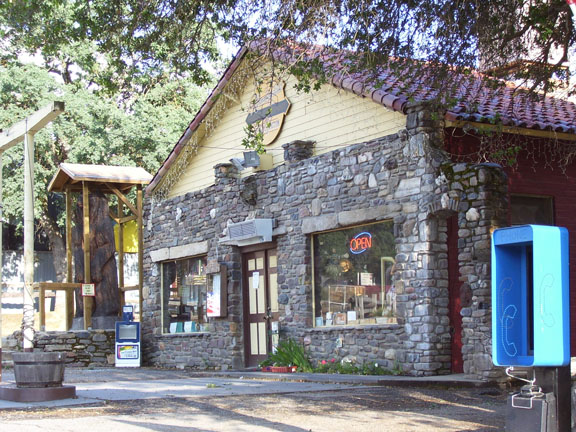 I stopped for a late lunch/early dinner at the Hummingbird Cafe and Lodge. I had also stopped here for lunch on the way to the mountains on my first day. The food is alright, and the prices are fair, it's an interesting little stop.
When I came home, the kitties were all happy to see me, and I had found that they enjoyed having an extra "open lid" litter box.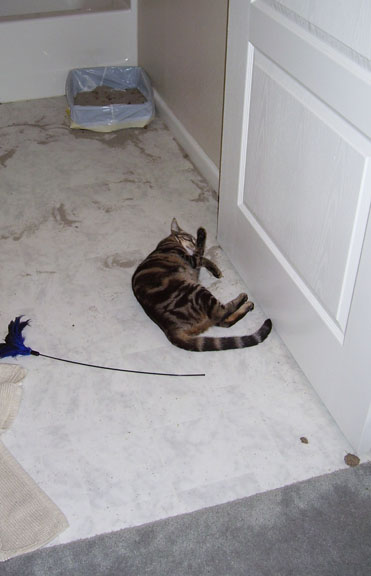 Piles of litter everywhere. I said "what happened here?" Lupe promptly showed me by diving in, and rolling around in a mound of litter. All I could do was laugh.