Crazy Beautiful Day 1
We left in the morning on Wednesday, the 18th of May. After leaving tons of food and water for Ashley, and a goodbye bowl of "breakfast" (canned cat food), we drove up to LAX. Parking in the outer lot at that airport, and taking the complimentary shuttle to the terminal was not a problem for us in the past, nor was it this time. So far, so good. We had the same luggage as our Seattle trip (even though this trip is twice as long, the type of clothing is smaller), so we anticipated not checking bags again. Adam's bags are two back packs that he can put together to look like one. My luggage is a carry-on size suitcase, and a small duffle (counted as my personal bag, as airlines allow 1 carry-on and a personal bag). Well, apparently the airport security didn't like the size of my personal bag this time, and insisted that I check 1 of my bags. :( I argued with several people, but they finally said that the flight was too full for me to have such a large personal bag. So I had to check my carry-on, which was a pain in the petute to not only go through another line to do, but then to wait for it to come on the conveyor in Maui, and sift through all the small black bags. It turned out that there was tons of room in the over-head compartments for my bag, so I wasn't happy about all that.
The flight from LA, CA to Maui , HI was supposed to take 5.5 hours, but I think we made it in just over 5. The flight did not feel long at all, but then again, flights usually don't to me. We watched "Coach Carter" as our in-flight movie. Our seats were fairly comfy, as we had upgraded to "economy plus," and were flying United. They fed us so much, I was always full. I had to hurry and eat my orange I had brought too, so I didn't have to claim it in customs. The video they show about claiming all agriculture and animals and such shows a lady getting busted for having an orange in her bag. It was so neat to see the big island of Hawaii from the plane-- the first site of land since leaving California ! It was so big and beautiful. I can't imagine what it would have been like to paddle up and see that after paddling in an ancient boat for who knows how long, as the ancient people did. Then the island of Maui came into view, along with the island of Kahoolawe . The coast of Maui from the airplane was so pretty, blue blue water with a white line along land. I could pick out the Hana Highway from the plane too.
The plane landed in Kahului, Maui , and the moment we got off the plane, we knew we were in a different climate. Maui's climate reminds me a lot of Florida . The humid heat in the air, weather systems blowing through, not the dry, warm, cool breeze California fare we are used to. The sun feels stronger in Maui than in either California or Florida . A shuttle took us from the terminal to the Alamo office where we rented the mid-size Chevy Malibu. Alamo has consistently provided the best deals and unlimited mileage, and I would strongly recommend them to anyone. Since we gained 3 hours in our flight over, it was only noon or so when we hit the streets of Maui . The first thing we notice: how agonizingly SLOW the speed limits are on ALL the roads. The airport is in the middle of the island, on the north shore. Our hotel is in the middle of the island, on the south shore, so we didn't have too far to drive. Once we arrived in the town of Kihei , where our hotel was located, we decided to stop for a bite to eat. We went to a little place called "Jaws." The food was alright, but over-priced. While we sat there eating, I got a call on my cell phone asking if I could come in to work that night, as they were swamped. Ah, all the more reason to be grateful that we were 2500 miles out in the middle of the ocean.
After Jawz, we pulled up next to the beach and felt the water, and looked around for a couple minutes. The ocean is definitely warmer in Maui than in California , but by no means warm. We then went to our hotel, checked in no problems. A bell hop carried our luggage up to our room. The room was an average hotel room, it did have a small fridge though, and a nice size balcony with patio furniture. It was exactly as I had been anticipating, so again, smooth. Right away, we changed into our swimsuits and headed down to the beach (across street from hotel). First we were at a tiny little cove that's owned by the hotel that we were staying at, and had loungers on the sand. Then we walked up and around to the part of the beach that went on for several miles, and walked it. The wind was high this day, and the sand was whipping up and blasting at our legs and sometimes higher. This beach has since been nicknamed "painful beach." (thanks, Lara). We explored some lava rocks on the ocean's edge, and tide pools. Adam did some exercising on the sand (push-ups with sand blasting your face? I'll just watch).
We went back to the hotel room and retired early (like 6 or 7 pm!). We were still on California time, short on sleep, tired from travel, and we were planning to depart early the next morning, so we figured it was best to go to bed.
I didn't take any pictures on Day 1! I was actually quite stingy with pictures on this trip, only taking a total of 101. I didn't bring my digital camera, only 2 regular disposable cameras, and 2 underwater disposable cameras. I didn't want to have to worry about my camera, but I do wish I'd either brought another, or had my digital.
I am supplementing my photos with some postcards that I bought and never had a chance to send (SORRY FAMILY AND FRIENDS!!!), and with some photos from the web. I will tell you when they are this type of photo.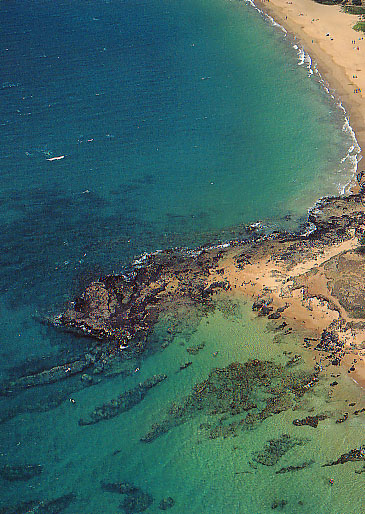 A postcard that I bought depicting part of the beach in Kihei, where we were on Day 1
DAY 2 | MAUI MAIN PAGE | ADVENTURES PAGE | HOME