Crazy Beautiful
Day 2 in Maui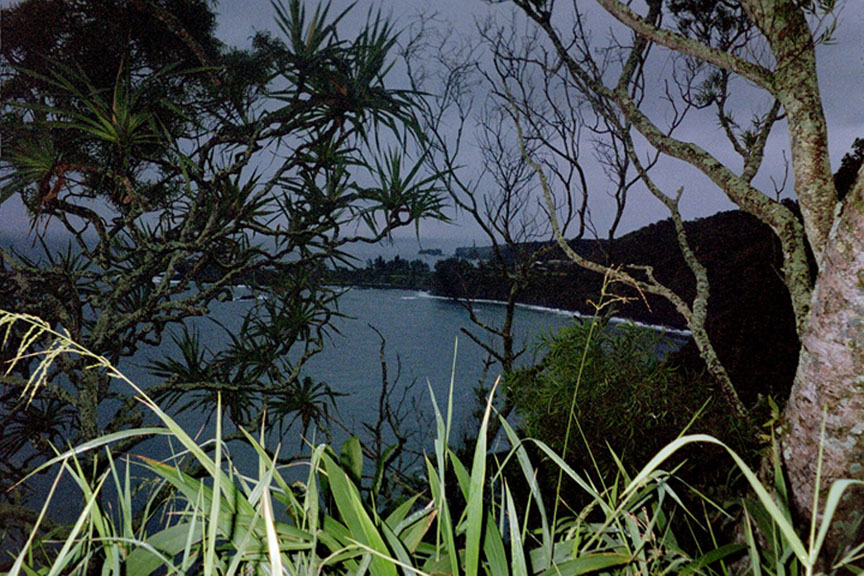 We rose early on the second day, and left the hotel at about 4:15am for the Hana Highway. We picked this up in Paia, and followed it around the North Eastern part of the island. The reason we wanted to leave so early is because this is a famous road for it's scenery, stops along the way, and narrow lanes with hairpin turns. There are many one-lane bridges and sections. The tour books say that this road fills with traffic by 8-9 am. We didn't see anyone for most of it. As the sun rose, we were driving through jungle (one of the wettest spots on earth with over 400 inches of rainfall). It was absolutely beautiful. We were driving fairly slow due to the road itself, and looking at the scenery, so we decided to put the car windows down to see if we could hear any wild life. We listened and watched. As the sun came up, Adam said "Shouldn't we be hearing some exotic birds or something?" About 30 seconds later, we got our answer.... "Cock-a-doodle-do!!!!" we hear from the forest, then many more. We stopped the car and listened, and realized the forest was full of roosters! :) We also saw coconuts in the road, and huge, thick forests of bamboo. The picture above is along the Hana highway, with Hana ahead down in the bay (on the other side). It was a cloudy and rainy morning, as I imagine most mornings are around a place that gets over 400 inches of rain a year!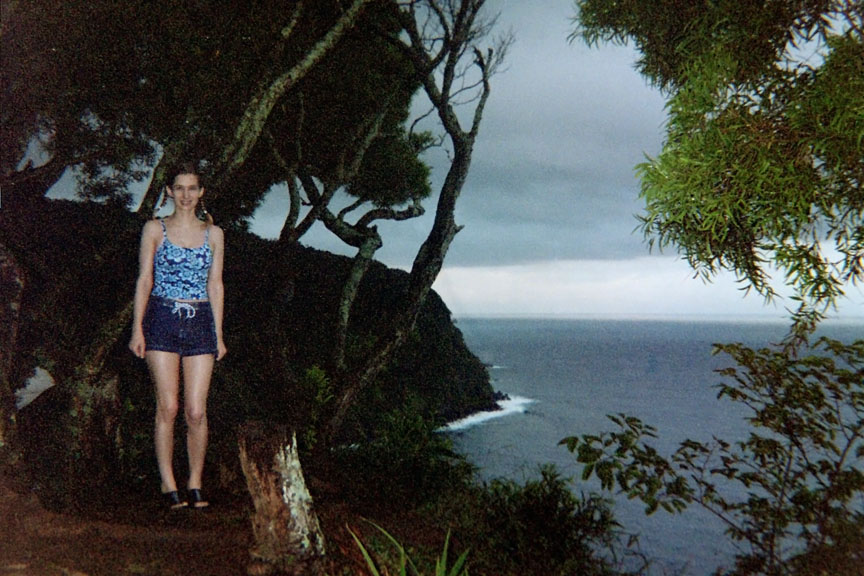 Again, I apologize for the picture quality of the disposable cameras. That's me, along the Hana Highway at day-break. There were spiders around these trees. One thing we didn't have to worry about are snakes. There are no wild snakes on the Hawaiian islands. :)
We arrived in the small town of Hana just after 6:30 am. Too early to eat at the local hotel or one of the main restaurants, but not to early for the locals walk-up window. So we walked up to this window in a small building, ordered breakfast, picked it up at another window, then sat down with a dozen colorful locals at picnic tables to eat. Horses were across this road from us, stray cats walked the fence across the parking lot, and roosters mingled around our feet, and occasionally on the tables, and throughout the parking lot. We decided to ask about the roosters here and in the forest at dawn. We were told that most of the tiny towns on Maui are called "rooster towns" and are full of them. Partly from the ancients who brought them for sacrifice and eating, and partly due to the still prevalent "cock fighting." By the way, the breakfast was good, I had macadamia nut french toast.
Back to the Hana Highway, as it continues for a few miles past Hana to the Oheo Gulch.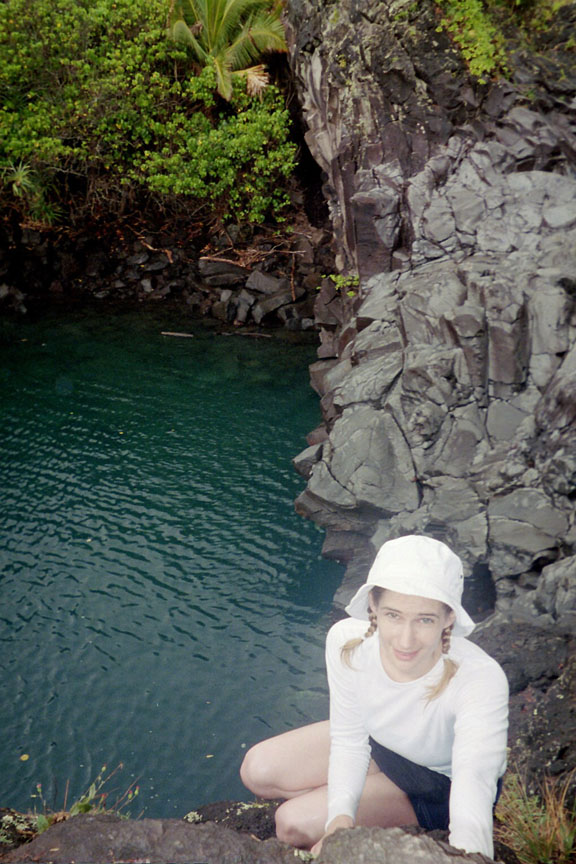 Me in my rain/sun hat. It was raining and sprinkling off and on. This was taken at the Venus Pools. We found this place using our guide book that I bought at Amazon.com called "Maui Trailblazer: where to hike, snorkel, paddle, surf, drive." We certainly wouldn't have found it on our own. It's not marked, until you get to the barbed wire fence where there is a small sign that says the area is private property and closed to visitors due to recent injuries and deaths here. To find it, we had to watch mile markers, count telephone poles, slip through barb-wire fence after jumping down from a bridge, and then dodge cow patties as we followed a stream past a big black rock kiln, then down. The pools were an amazing blue, and the lava rock was fantastic. Just looking at this picture, shows only a fraction of the beauty in person. In a shallow area, we found many tadpoles swimming around, and there were lots of little baby frogs. Then Adam decides to see what's under this big rock, oh look, it's mama frog, as this huge frog leaps out and into the water-- away she swims.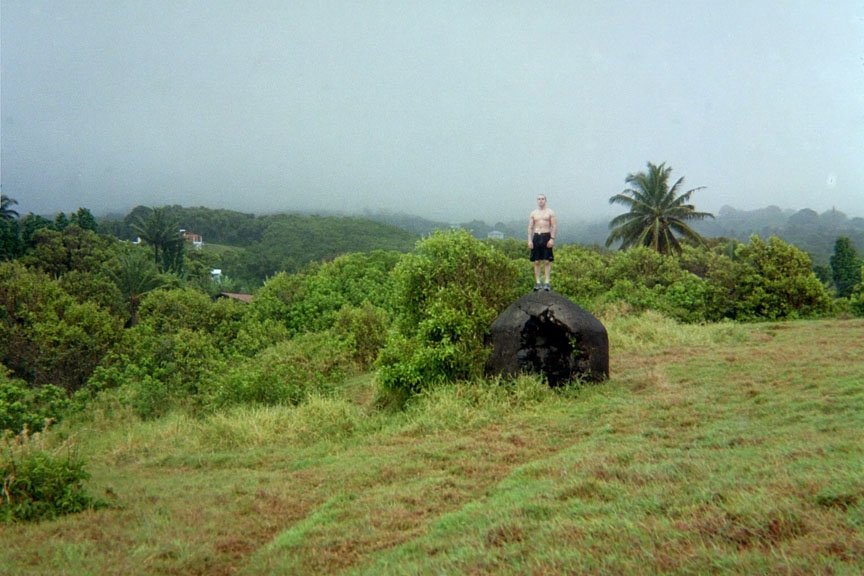 That's Adam up on the big black rock kiln I was telling you about along the path we followed out, dodging cow patties. As I took this picture, a vista of the ocean was to my back.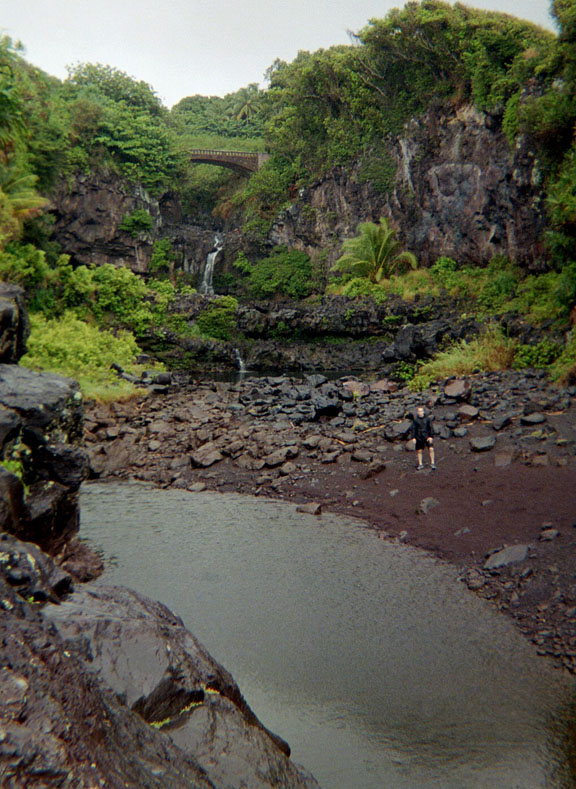 There's Adam at the Oheo Gulch (otherwise known as the sacred pools). The sand by his feet is black and red. This is all volcanic rock, with many pools coming down the mountainside. There were a couple of people swimming in one of the pools above. If you notice, you don't see anyone but Adam in this picture. This is another reason for our leaving so early, by the time we hiked the trail up the mountain from this, and then back down, this place was swarming with tourists!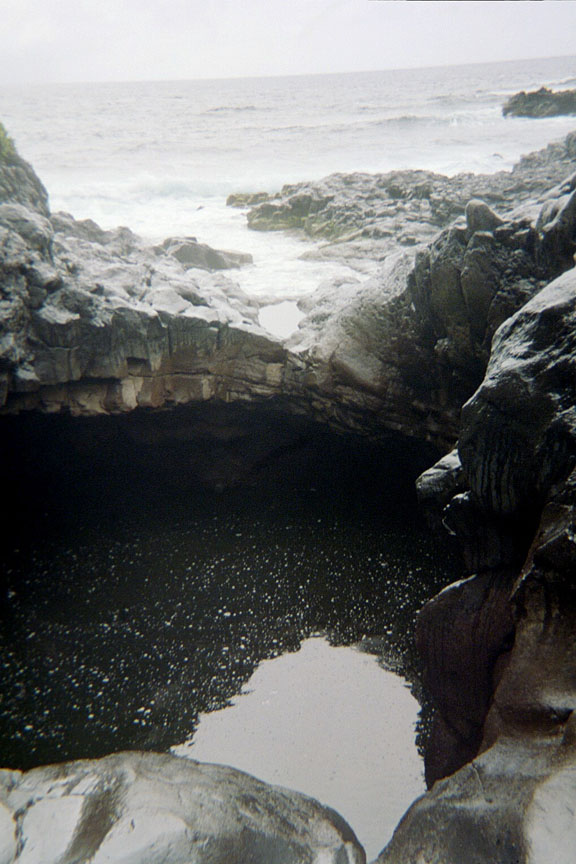 This is looking the other direction, out to the ocean. The speckles in the pool here are from rain. The rain continued for just a short bit as we hiked up the mountainside, then it stopped, and eventually it was sunny. This lava rock here is just so incredible.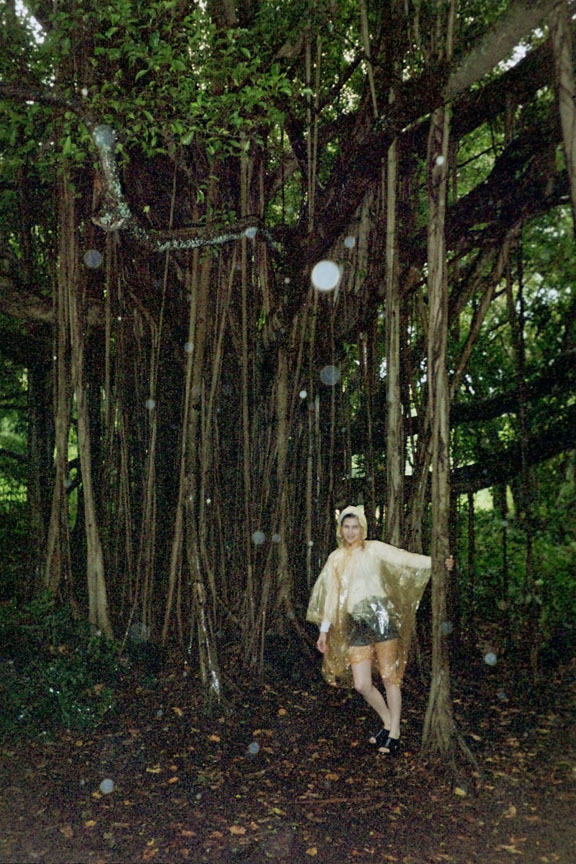 This is me in my poncho ($5.00 at the park's visitor center! save money, pay 89 cents for one at Target, and bring it with you if you come here!) The tree here is considered a Hawaiian specialty, it's the Banyan Tree. I was told about these before I came, and it was even more amazing in person that I thought it would be. These trees grow really large, and drop roots from their branches that come down and go into the ground! They are like many tree trunks coming down. I am hanging off one of the roots here.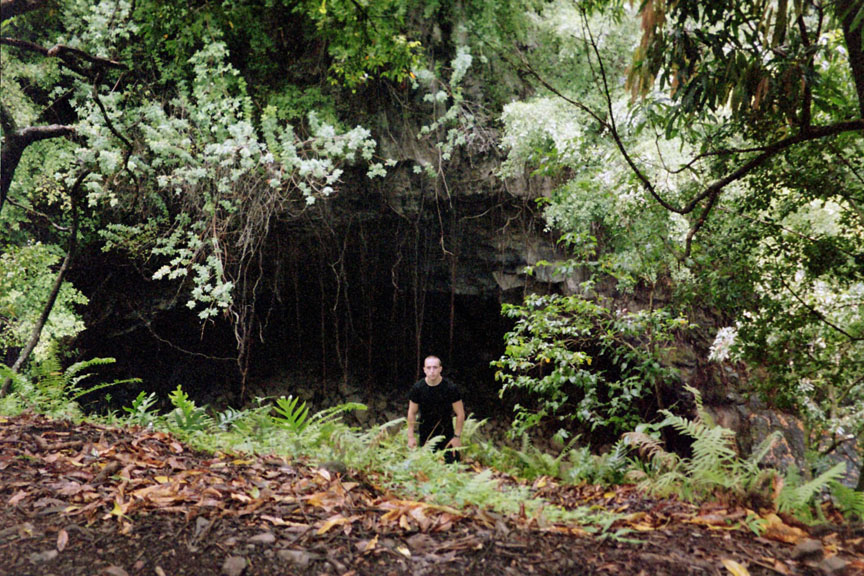 Adam down by a lava formed shelter.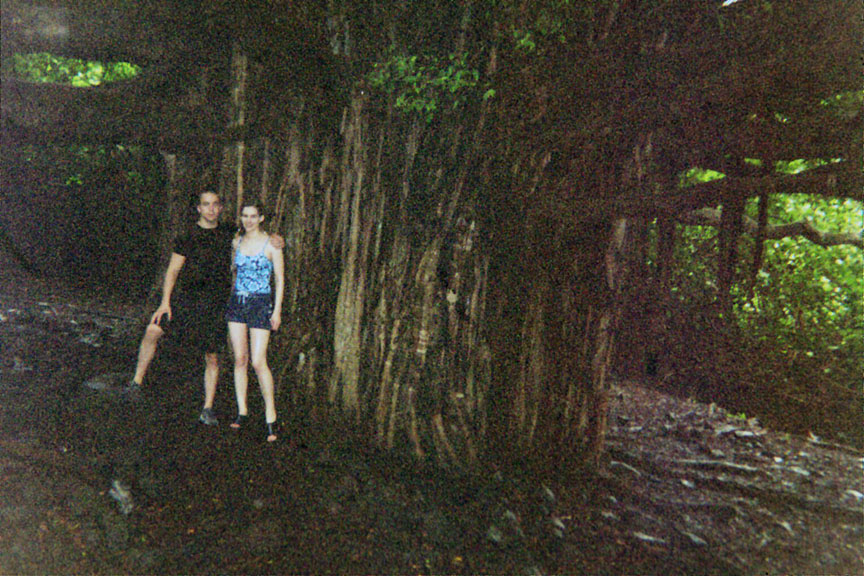 Me and Adam under a large banyan tree. A couple from Oregon took this picture. We took one for them too.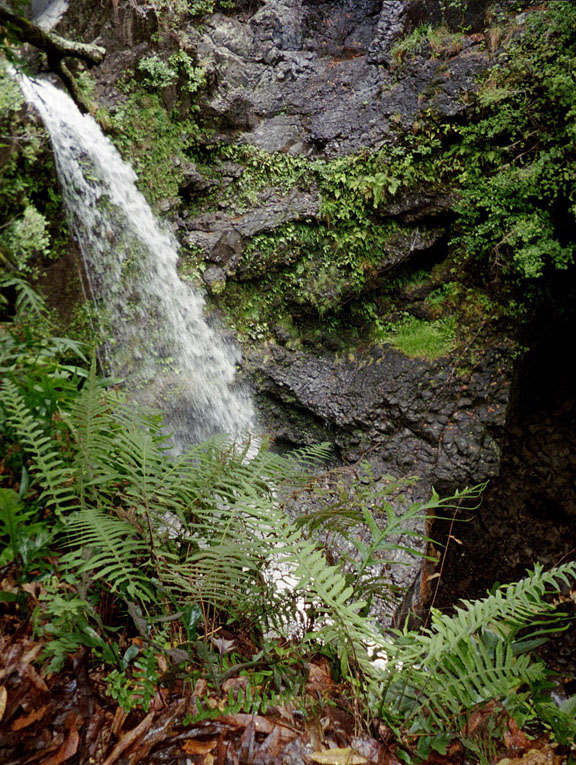 one of several waterfalls we passed on our way up the mountainside.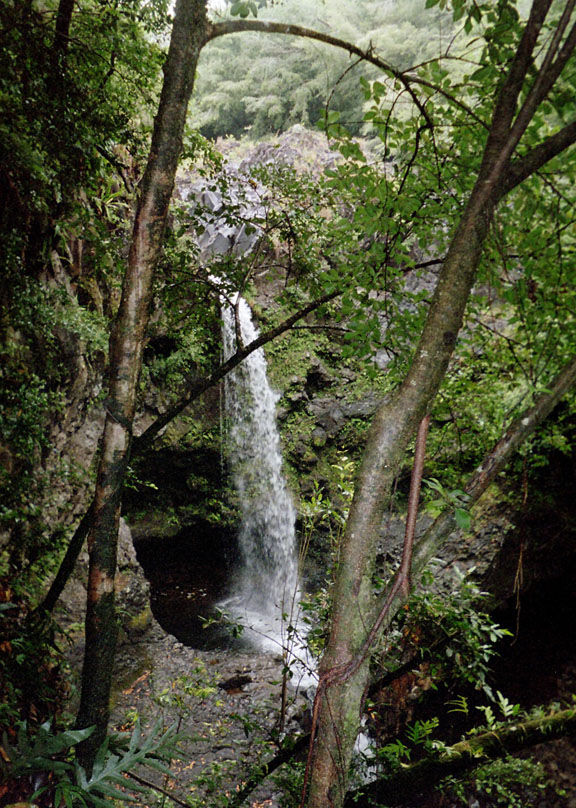 Another waterfall, falling into two pools below.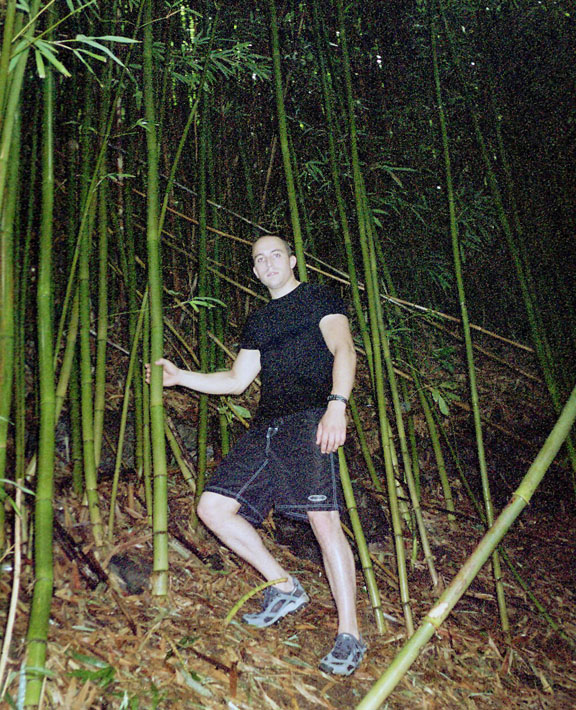 Now we are entering a bamboo forest, this was sooooo amazing.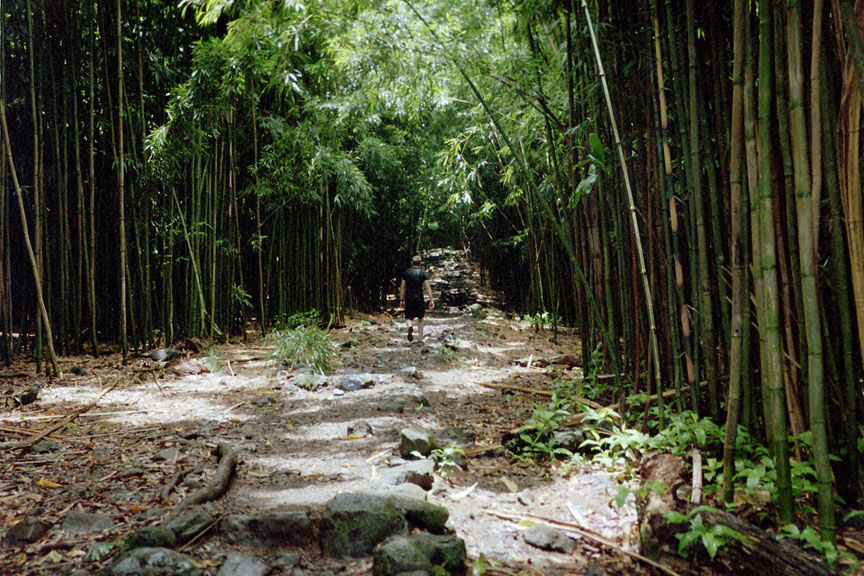 Adam walking ahead. This section of the bamboo forest was cleared out for the path, but just look at how thick it is on the sides, completely obliterating the sun! This went on for a long way too.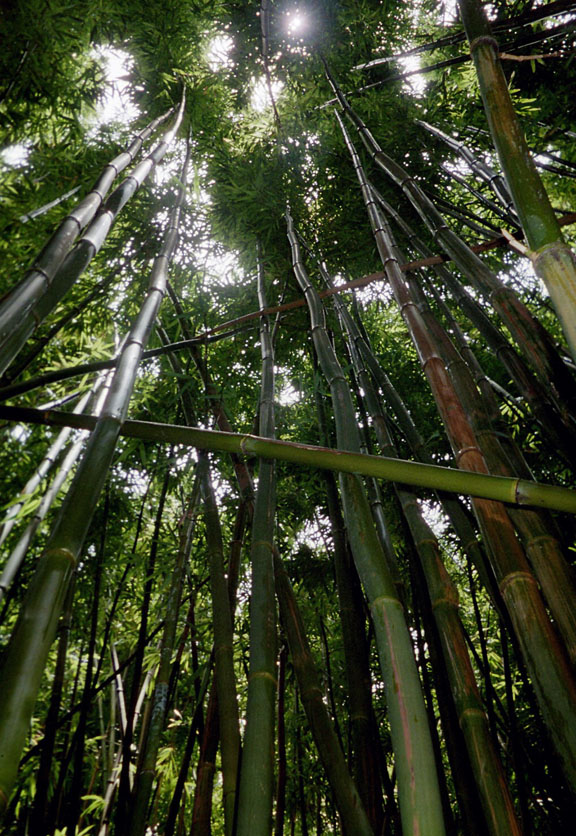 I was trying to give an idea of how tall this stuff is-- very tall. The sound of it all knocking against each other in the breeze is a sound I will never forget. I wish I had a recording of it, it's just wonderful.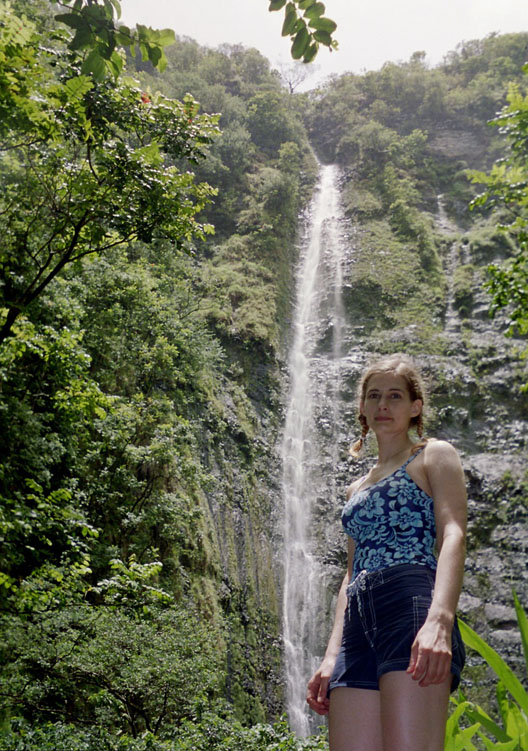 This picture is deceptive. I'm actually quite a distance from this huge waterfall, so you can't tell it's true size here. This is the 400-foot Waimoku Falls.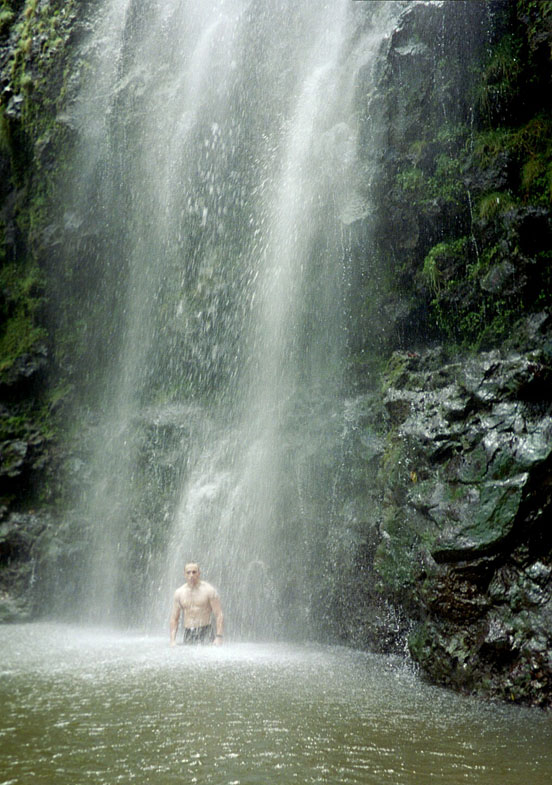 Here's Adam standing under Waimoku Falls. The pool here was only about as deep as you see him in here. several people were already swimming here when we arrived. The size of this waterfall in person is mesmerizing.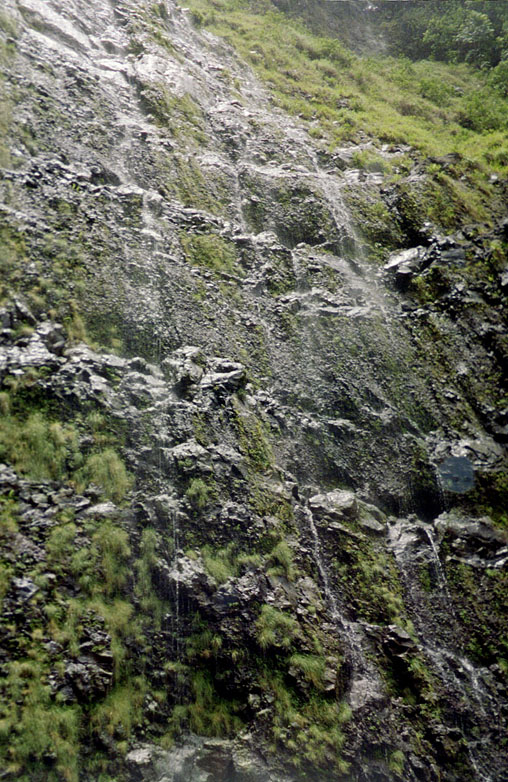 this is water coming down the rock wall next to the big waterfall. It's like a big rock amphitheater. This is also the end of the trail we were on.
After hiking back down, we washed off a little at a fountain in the parking lot and headed back to Hana. We were hungry for lunch now, and just before we entered the town of Hana, we smelled wonderful barbeque chicken on the grill, and then saw a sign in this guy's yard that he was selling lunch plates of it! We pulled into his driveway, then parked in his yard. He had a sign with prices for chicken lunches, fish lunches, and some other stuff. The sign said he was saving up for his family vacation. After we ordered our food (me chicken, adam fish) we watched him and his daughter prepare our meal, and I asked him where he was going for vacation. He said he was taking his family back to Tahiti for a family reunion. The food was excellent, served with rice and potato salad. We sat at a table in his yard, eating with his son. There was a chicken wandering at the end of the table where a vegetable garden was. I looked at the piece of chicken on my fork and wondered "I bet this is the freshest chicken I've ever had."
After stopping at a couple of small shops in Hana, we continued on past Hana, on the Hana Highway, this time full of traffic, and so many tight squeezes with other cars, you could barely fit a finger between us at times. We made it back ok, and tired and retired very early again, as our next day would have to start even earlier! We were to leave the hotel by 2:40am. Goodnight!
Day3 | Day 1 | Maui main page | Adventures page | Home