Crazy Beautiful Day 3
We leave the hotel in Kihei at 2:45am to make our way up to the town of Paia by 3:15am. The destination is a small building housing the company of Maui Sunriders. Maui Sunriders is a company that provides a van ride up Haleakala Volcano (over 10,000 feet up), and bicycles with gear for an unguided tour on the way back down. We are given until 5pm to return the bikes. At the Maui Sunriders office (just above sea level) we sign in, pay, and get outfitted with rain-resistant pants, coats, gloves, helmets, backpacks, bike locks, maps, and bicycles. After supplies are secured, we load up into a van, every last seat full. I had the lack of forsight to leave my rain-resistant gear on, on top of my layered clothing of jeans, shorts, long-sleeve shirt, t-shirt, and tank top. I also had the great fortune of sitting in the back of this 12-seater van. At first it was alright, a little crowded, slightly stuffy, but ok. As the 38 mile ride went up, weaving around the tight switchbacks, the van seemed to turn to oven. I left my coat on for awhile as a courtesy to not shove into others, as we were so closely sat. Finally, wet with sweat, feeling the dilation of my blood vessels, I took the coat off. The discomfort grew after a bit, and soon I began to wonder if I would make it to the top without incident. I started mumbling to Adam about being uncomfortable, he tried to give me more room, had me touch the cool glass windows and such. I began to get even worse, then I felt my skin go even pastier than it already was from a strict schedule of night shifts. I called out to the van, "please, can we open a window, I don't feel very good." I don't know if I just wasn't very loud, or if people just didn't know what to do, but no windows opened. I felt the light breakfast we had grabbed at the gas station market stir in my stomach as I called out again. This time, a few people looked at me, and I started to heave. I panicked with the thought of no where to vomit, and felt as though I may even pass out with no choice of where to vomit. I thought of my patients in the past who needed to vomit, but held it in as I grabbed a basin for them. I decided that if they can hold it back, then I can hold it in too. My focus was now on containment. One of the people who turned to look at me was a woman in the row in front of me with long, brown curly hair. She saw my heavings, and called out in a loud clear voice-- "open the windows! this girl's getting sick!" Promptly, everyone turned to look at me, or move out of my way, and fumbled to try to open windows. The driver up in the front was asked to put down the front windows then. All the fresh, cool mountain air was like a rushing medicine for me. I felt immediately like I could think again, although the knot in my stomach remained. We still had a bit of winding and climbing up the road to do. Many eyes kept a watch on me now. After a bit, as we were so close to the parking lot, I felt it all again, and the heaving came in several more waves. Someone called out that I was getting sick again, I can't even remember where the voice came from, or whether it was male or female. The van stopped, and I felt better. The driver asked if I needed to get out, and I said "no, let's just get there." Within 2 minutes or so, we were there. I was one of the first let off the van, my thoughts all bent on the moment of escaping that thing. I took off my rain gear, and went to watch the sunrise, as this was the point of leaving so early-- to see the sun rise from the top of Haleakala (House of the Sun). Even though I was cold, I let myself get to shivering, to get my blood pressure back up. I must say, I am very proud, I never actually vomited! :)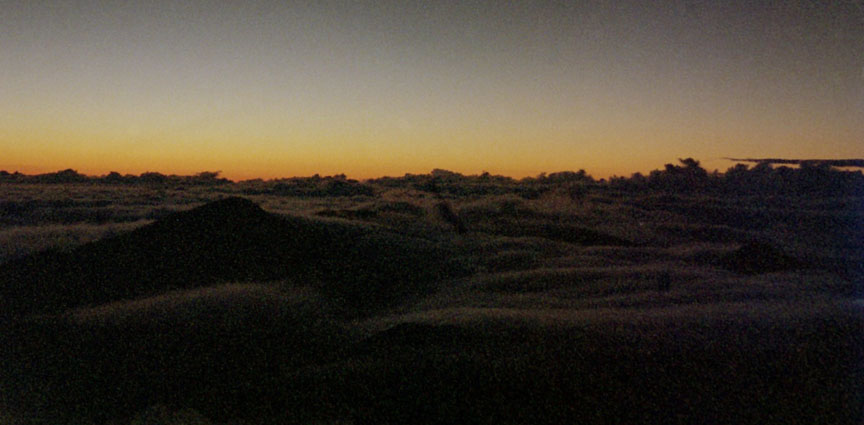 First lights of Sunrise from the top of the volcano, above the clouds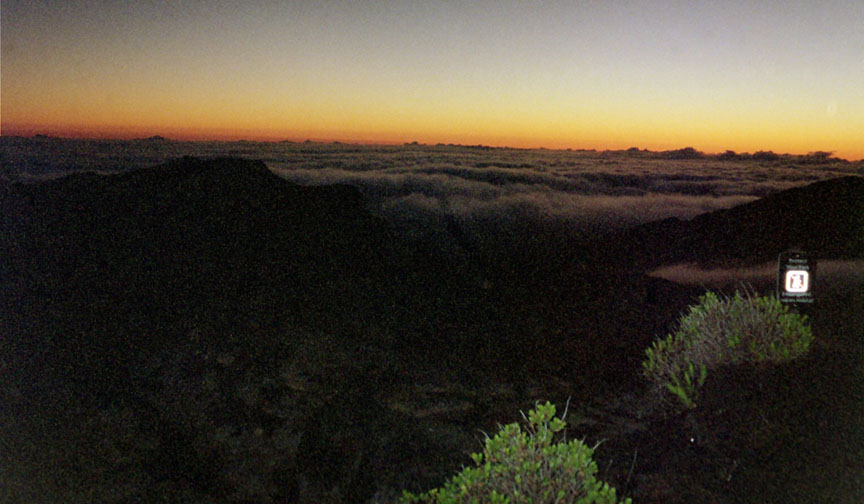 Getting brighter on Haleakala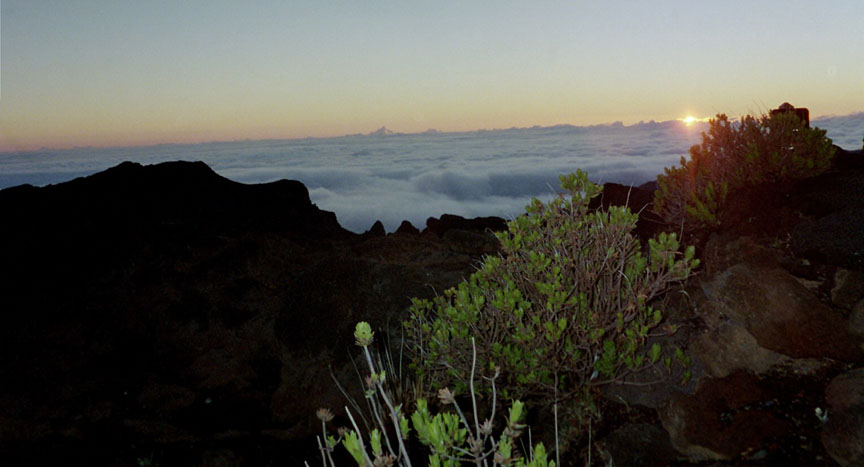 There it is, the sun rising, as seen from Haleakala, and above the clouds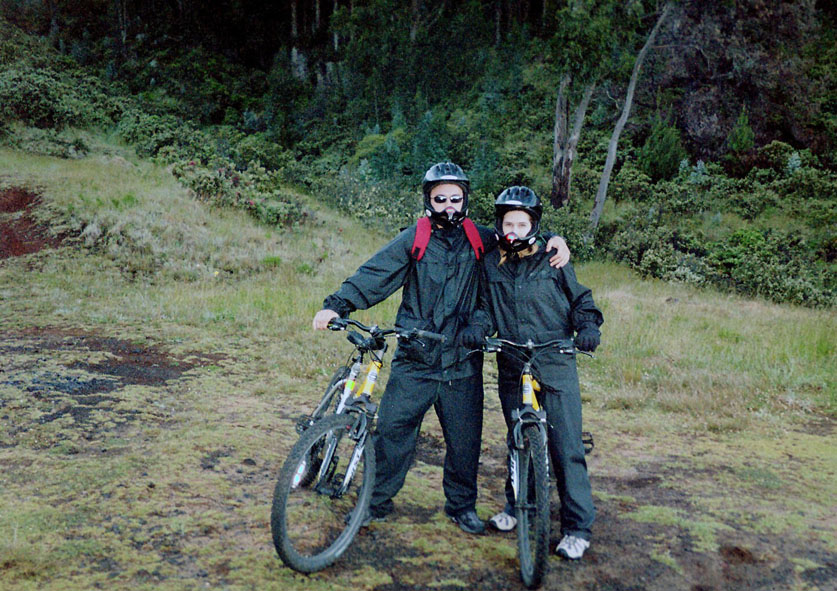 Adam and me, with our gear on, and our Trek bikes, ready to ride down 38 miles to sea level. This picture was taken by the van driver.
Me in my bike gear, at a viewspot that had the valley below,and the ocean in the distance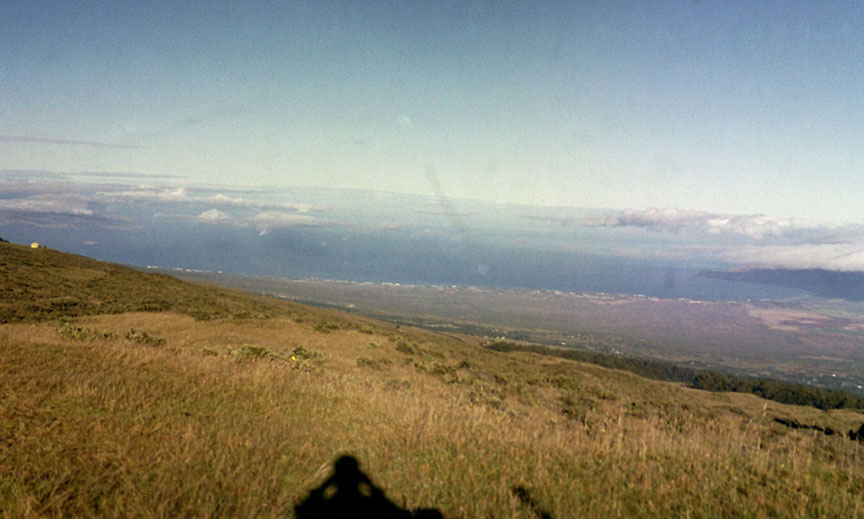 More view of the ocean
This bike ride was so much fun going down. We would get going really fast, and go through all sorts of nature settings. The fresh smells were wonderful. As we were going along, we came upon a fellow biker from our group who was on the side of the road working on her bike. We stopped to help her out. Apparently, she had been shifting gears, and the chain was off the track, but then was jammed up by the pedal or something. I came to remember that this was the same brown curly haired woman that helped me in the van. It took awhile, and some greasy hands for Adam, but he finally got the chain on properly. In the meantime, we had found that the woman's name is Lara, and we got along very well with her. I invited her to join us in our ride to the town of Makawao (Cowboy Town, as many call it) for food.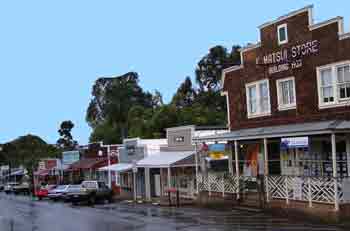 This is a picture I found online of one side of the street in Makawao. Unfortunately, I didn't take any pictures of this town myself. If you look infront of the big building here, and to the left, out by the street, you'll see two wooden posts, connected with a red post. That's an old horse tie. We chained our bikes there, me, Adam, and Lara. We walked down a few stores and found a sushi bar/ coffee shop/ smoothie stop. Lol. Lara treated us to a coffee and a smoothie. We spent a couple hours here, perusing the shops, talking to locals like Gary (the unofficial Mayor) and the kissing bulldog. Also there was the colorful Oz, who we ran into twice. I should have taken a picture. As we visited more with Lara, we found that we all got along quite well and were having a good time together. We invited her to ride to the bottom of the mountain with us, and then join us at the beach. Come to find out, the hotel she was staying at was also in Kihei, and only 2 properties away-- we had already walked by it on our first day!
The rest of the ride down was fun and fast, and as we rode into the parking lot at Maui Sunriders, I finally felt fully recovered from my morning bout up the mountain. Lara's friend Barbara and her 13 year old son Dustin had also been on the bike tour, and were waiting for us in the parking lot. We invited Lara to ride with us, and we dropped her off at her hotel to change, and we went to ours to change. Then we picked her up, and we all went to eat at a little bar/restaurant called "Life's a Beach." We ate in the outside part in the sun (the floor is sand in this part of the restaurant), and I believe this is where the worst sunburns were earned. After Lunch, we all headed to Makena Beach, otherwise known as Big Beach.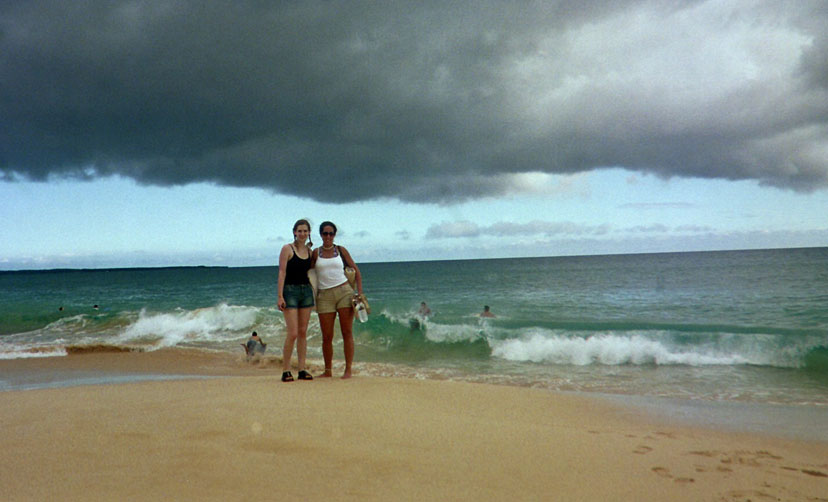 Me and Lara at Big Beach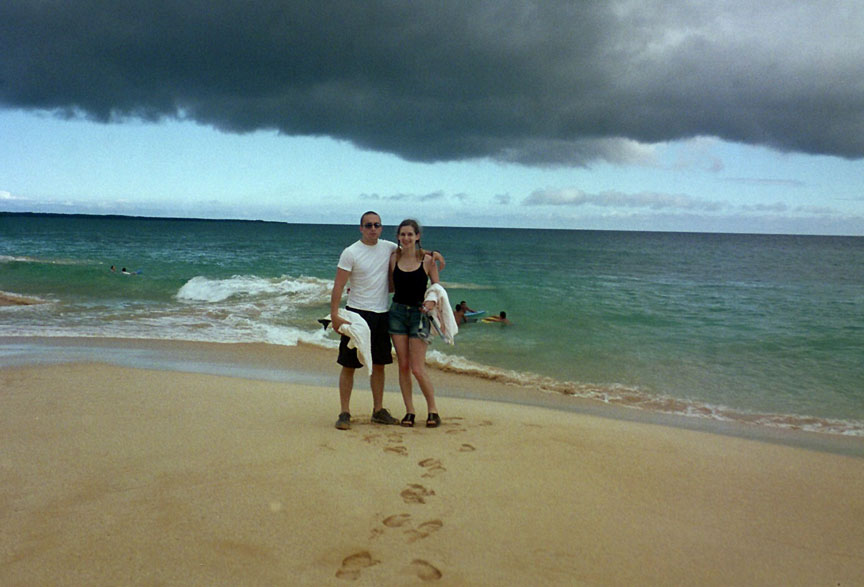 Adam and me at Big Beach (photo taken by Lara)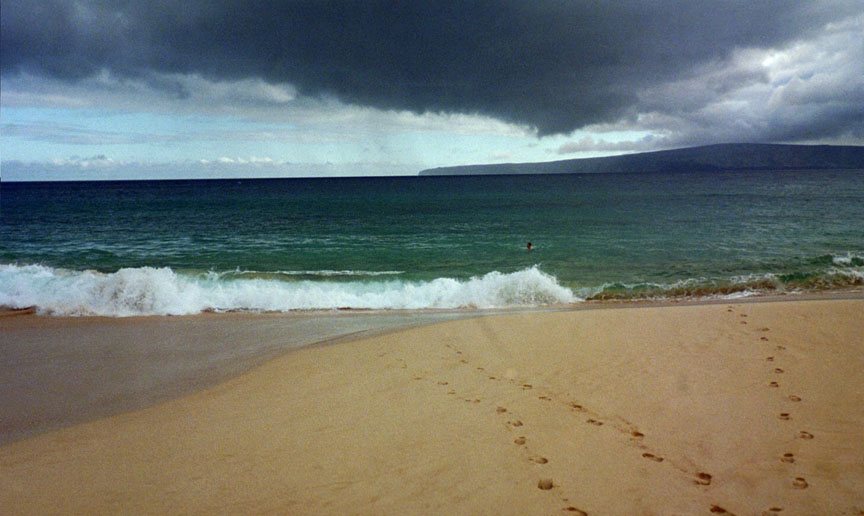 Adam in the water at big beach. This water was soooo clear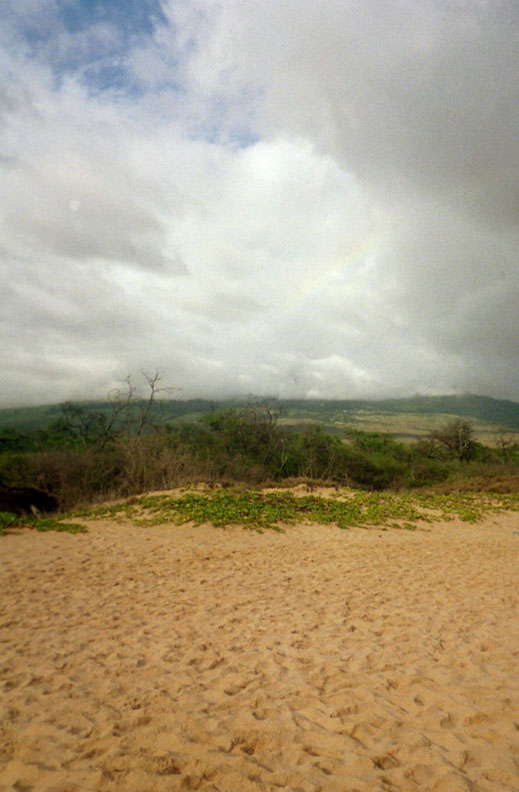 If you look closely, you can see the rainbow in the middle of the clouds here at Big Beach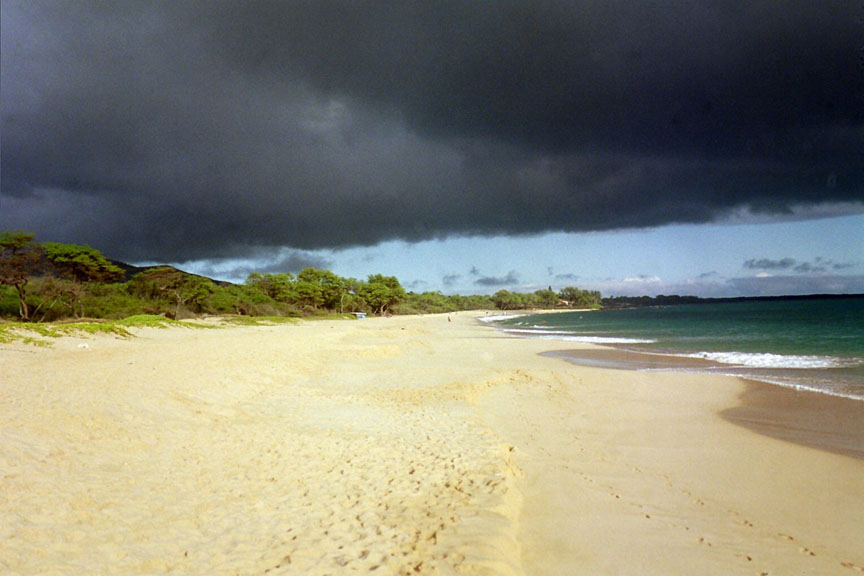 Big Beach. These photos don't even begin to show the beauty of this beach. The clouds are showing up a little darker than I remember them being, also.
We had fun in the waves, that were quite powerfull, sometimes slamming us down into the sand, "breading" us with sand EVERYWHERE. The sun began to get lower and we decided to leave. We dropped Lara off to shower and change, with plans to meet up again for dinner or appetizers. We went to our room, showered and changed, and Lara walked over, bringing a big bottle of wine. We decided it would make a wonderful evening to get some cheese to go with the wine, and take it all down to the beach to enjoy while we watched the sun set. Lara even brought a bag with wine glasses in it!
We knew the perfect place to go for our cheese, a little shop we had seen earlier called "who cut the cheese." We sampled cheeses, and found the perfect one, which we got a big chunk of. We walked down to the beach alcove where the loungers were for us to sit on and use as a table for our cheese. We were the only ones on this little bit of beach, and the sunset was nice.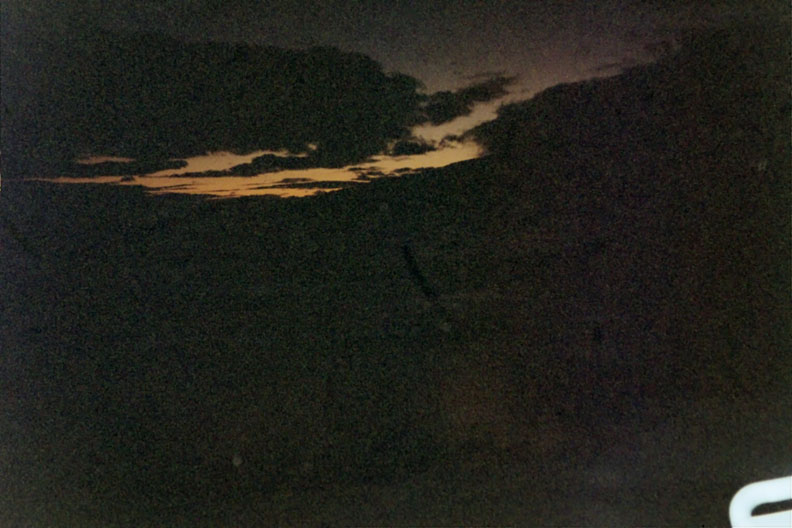 This picture isn't all that clear, but it is of the sunsetting behind the island of Lanai, the ocean and beach are right in front of me here (in dark of this picture), and the white thing in the corner is the edge of one of the lounge chairs we were using on the beach.
We stayed until after 10pm talking! It was one of the best times during the whole vacation. We all walked back to our respective hotel rooms after this, and slept heavy-- what a long day!
DAY4 partI | DAY 2 | MAUI MAIN PAGE | ADVENTURES PAGE | HOME