Day 2: May 20, 2006
This bright and sunshiny day started with breakfast at my Uncle Gene's favorite breakfast spot Perko's. He's nuts about their country potatoes. After breakfast, we went back to his place and took some pictures before I headed for the hills/mountains.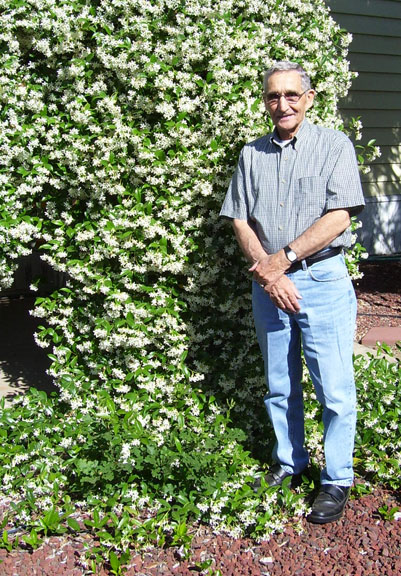 Uncle Gene Miles in front of his wall of Jasmine.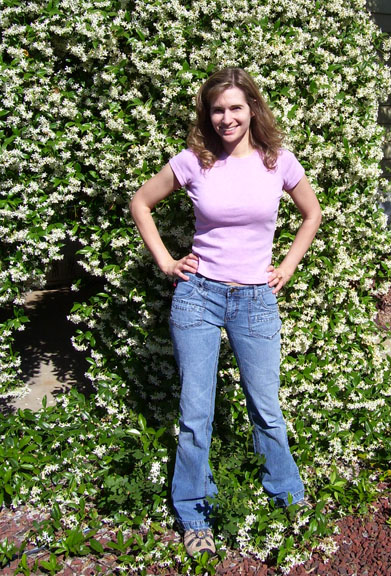 Kristi Miles in front of the fragrant wall of Jasmine.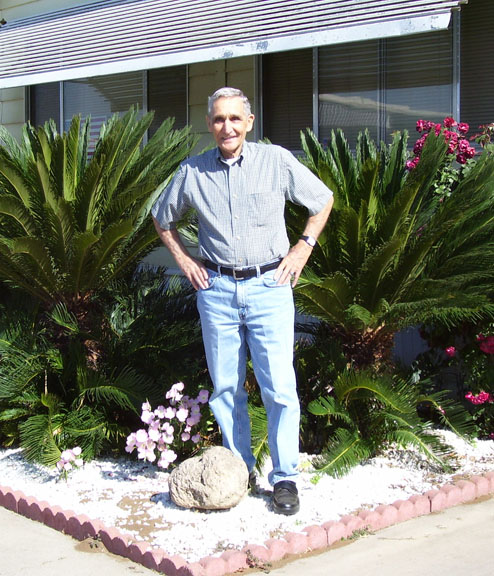 Uncle Gene in front of his home in Dinuba, CA.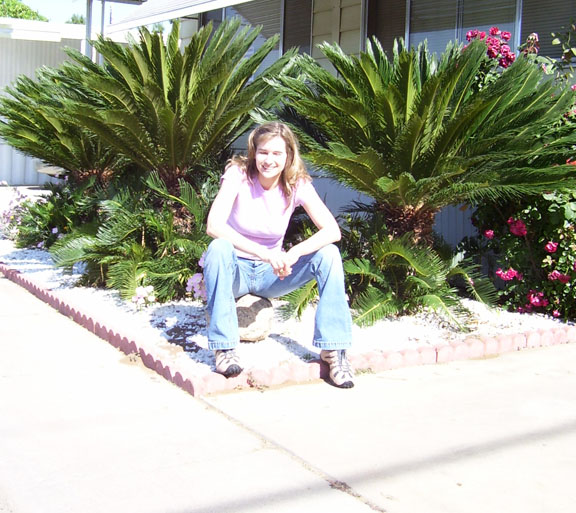 I'm blinded by the sun in front of Uncle Gene's.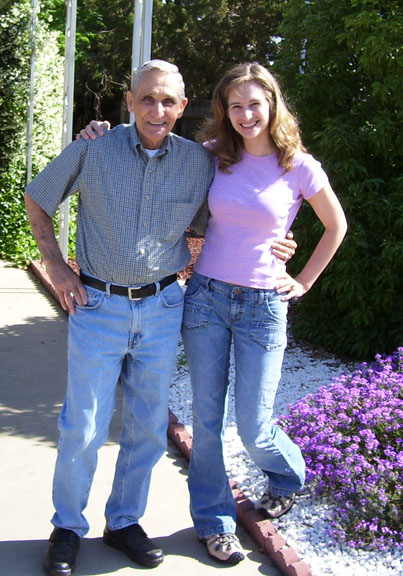 Uncle Gene and me in Dinuba, CA.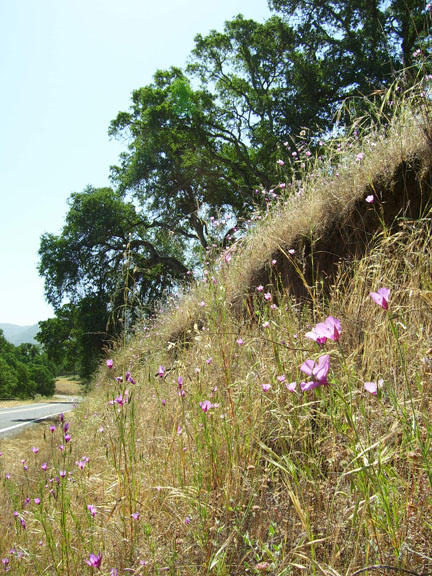 Pretty roadside flowers on my way to the mountains.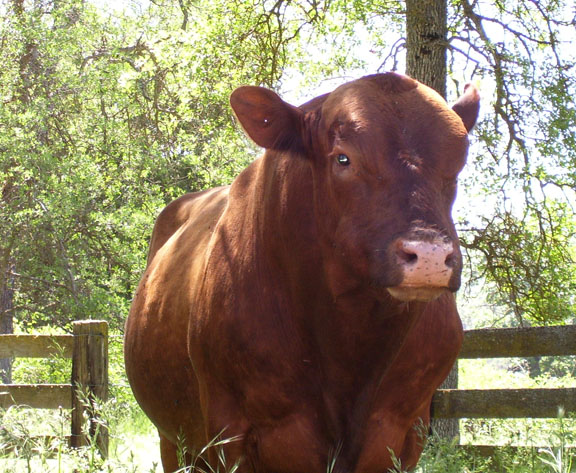 Roadside cow on the wrong side of the fence. This was my first hint that this would be a day of animal sightings.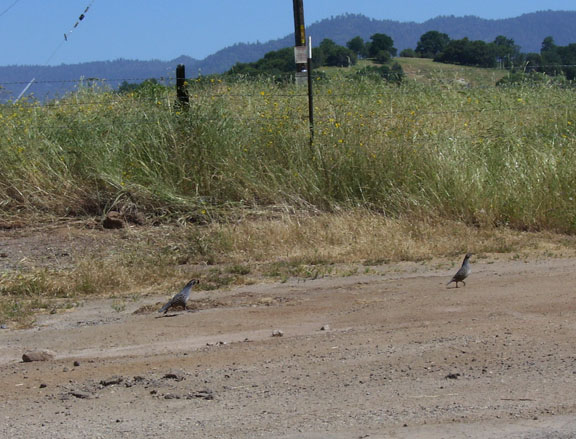 California Quail (the state bird). They always seem to be running in pairs or families along lesser traveled roads. They mate for life, and are the funniest things along the road--always cracking me up.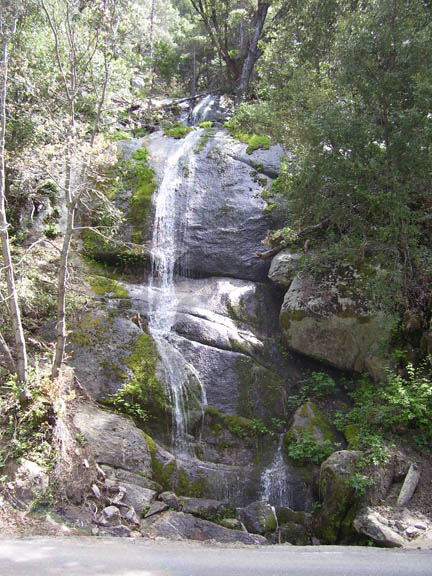 Small roadside waterfall.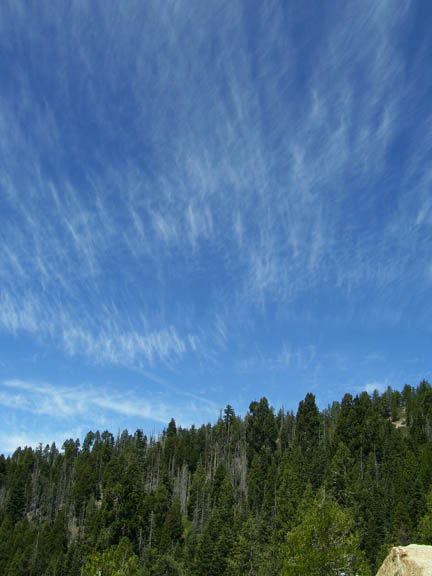 As I enter the mountains, the skyline and tree line seem to echo each other.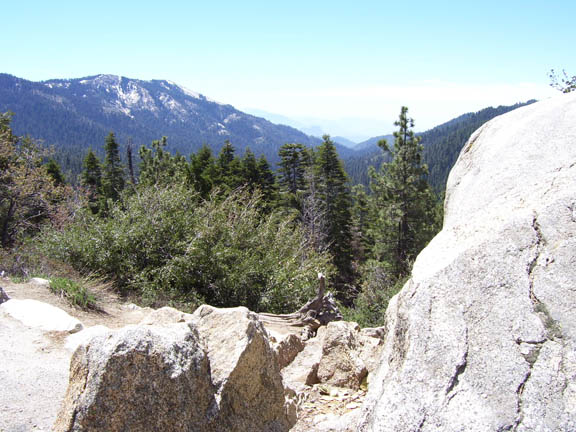 An overlook in Kings Canyon National Park--yes that's snow on the mountain in the distance. I also found myself driving through freshly fallen snow from the night before!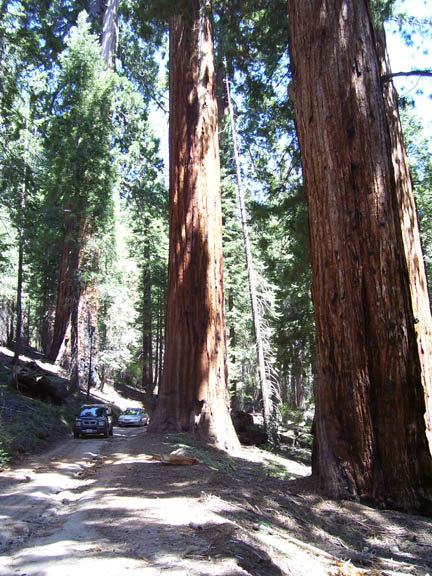 My car next to a sequoia as I approach the "parking lot" after venturing on an unbelievable rocky bumpy dirt road. Uh-oh, a car has pulled up behind me, gotta go.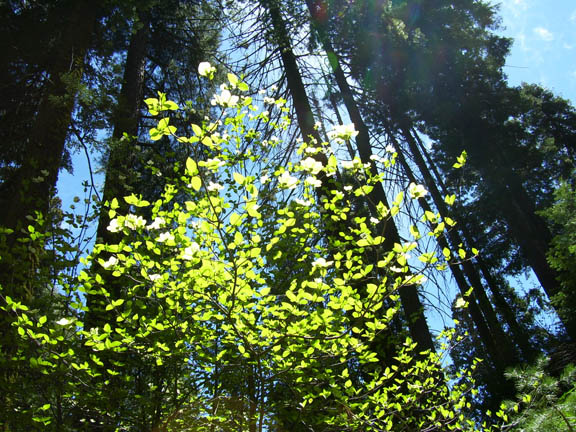 The sunlit trees as I begin my hike on Redwood canyon trail, deep into the park, and deep into the forest.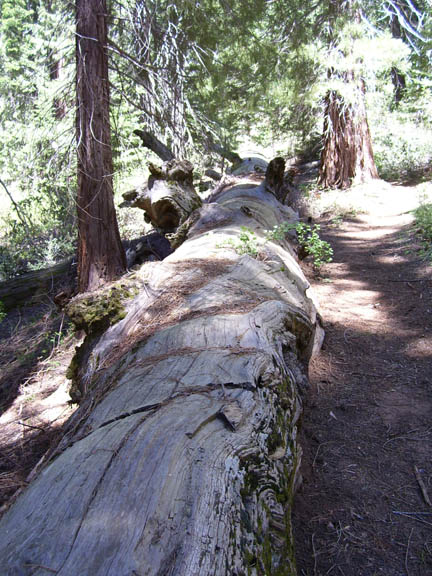 A fallen sequoia--this trunk just keeps going and going!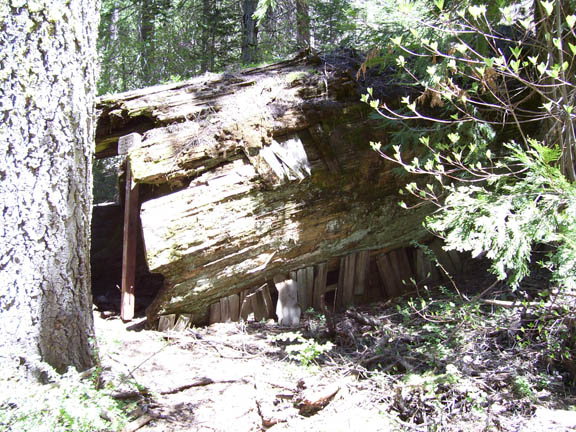 A "log cabin" tunneled into a fallen tree.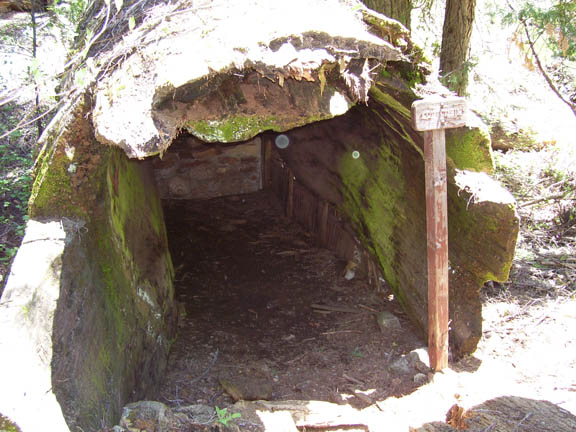 Looking from the front into the log cabin.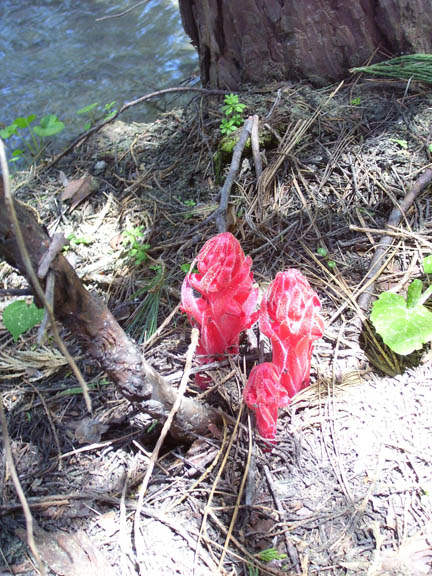 A rare snow plant growing along a stream. This plant only grows and blooms from May through July at 4,000 to 8,000 feet, usually under pines.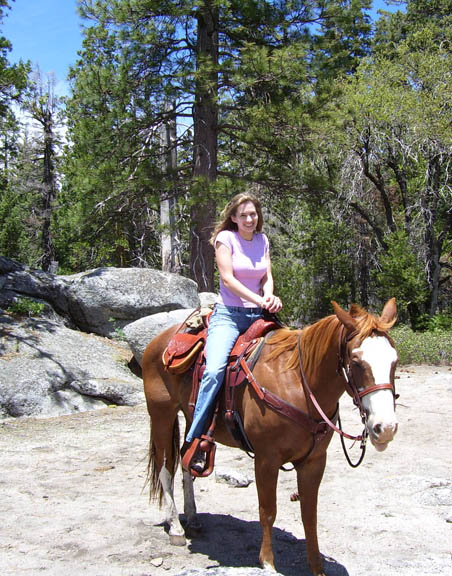 Here I am at the summit of the mountain/trail, where I ran into some people with horses and a dog. They let me play fetch with the dog, and sit on a horse for a picture.
A couple of the people said they had seen a bear on the way up here, and had come from the direction I was headed. I was very cautious after moving on, but excited at the chance to see a bear (finally).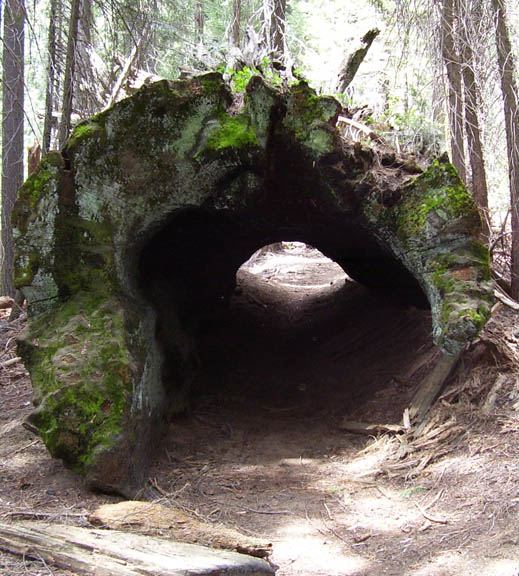 Shortly after moving on, I came across this tunneled out tree that the trail goes right through. Luckily I was keeping pace with a group of hikers at this point, and they we were able to exchange photo taking--as seen next: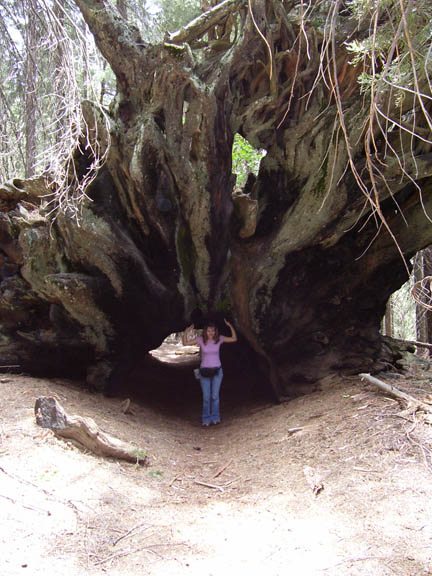 Here I am at the other end of that tree-tunnel. That thing's flippin big!
Shortly after this, the hiking group went far enough ahead that I only got fleeting moments of sound from them. I figured this was better, to increase my chances of seeing a bear.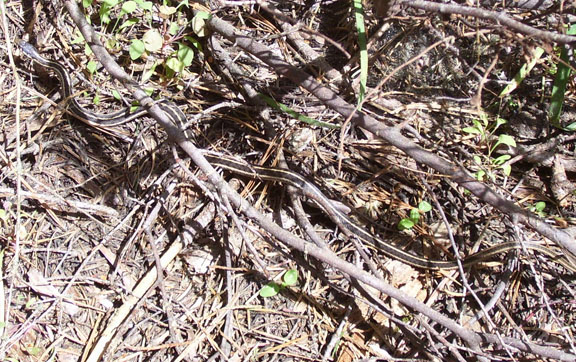 It's no bear, but this little black and yellow snake did give me a start when it went zipping in front of me.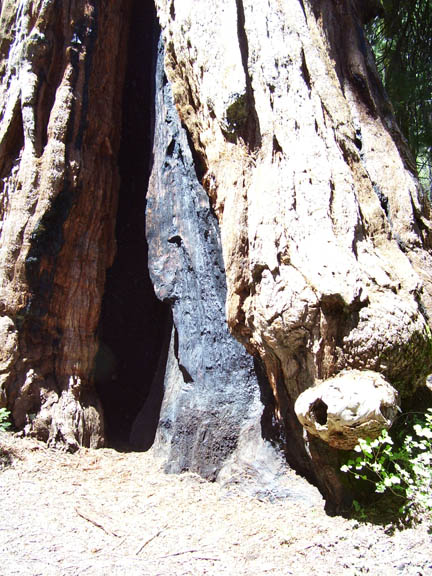 I found this sequoia very reminiscent of the Berenstein Bears home. Do you see the little mailbox to the lower right side? Surely I must be getting closer to bears now.
I recognized the clearing I came to after this as described by the people with the horses as being the location that they had seen a bear. I got so involved with looking for a bear, that I lost my way off the trail. I wandered on very paths, but they frequently dead-ended. Then I wandered into this: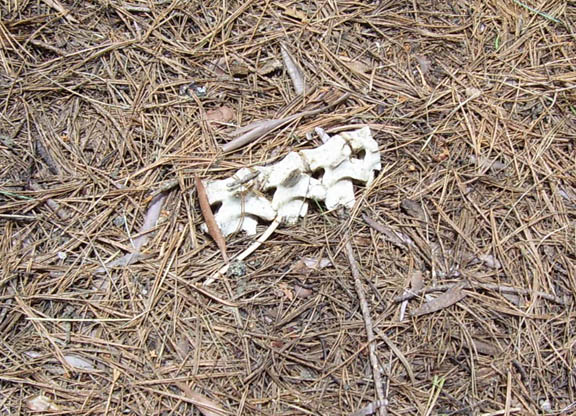 Not quite sure who or what this belongs to, but I do know that it's a vertebrae of some sort, and the size of the owner isn't too far different from myself. This made me seriously seek my way back to the trail, with all my focus.
Luckily some hikers with brightly colored hiking gear were approaching from the other side of a stream (that's why I had lost my trail, it crossed the stream!). I quickly climbed a downed tree, and made my way across the stream and over to the area that I had seen the people. The trail wasn't too far from where I climbed down, and I decided to just try not to get lost at this point!
The trail seemed to go on forever, and I finally figured out where I was on my map. Although I had hiked a good 7.5 miles, I still had over 3 to go. I wasn't hearing nor seeing any more hikers, just trees, trees, and shrubs. Then I heard a bit of rustling ahead and to the left of the trail, and this is what I saw: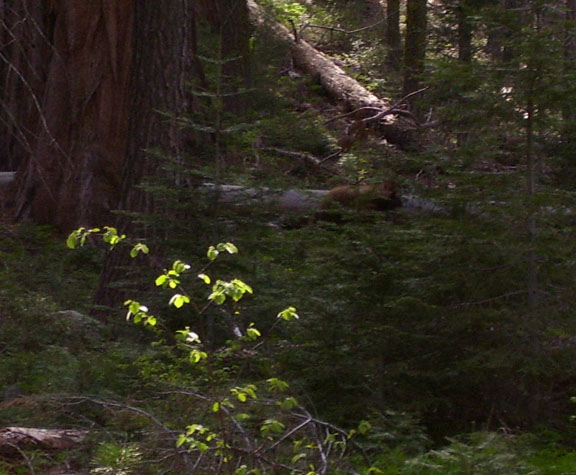 Yes, that's a bear! He/She hadn't seen me yet and was foraging around at this point. I moved forward to try to get a clearer shot.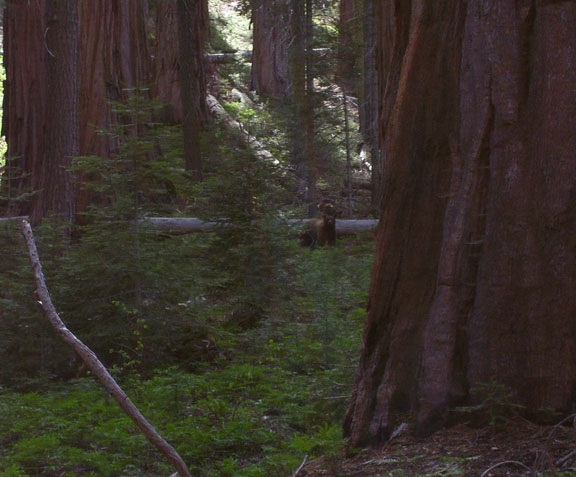 At that point, it saw me as well. (remember the sequoias here are gigantic, the log behind the bear is the size of an average full grown tree). We stood staring at each other, both startled, and wondering what to do now.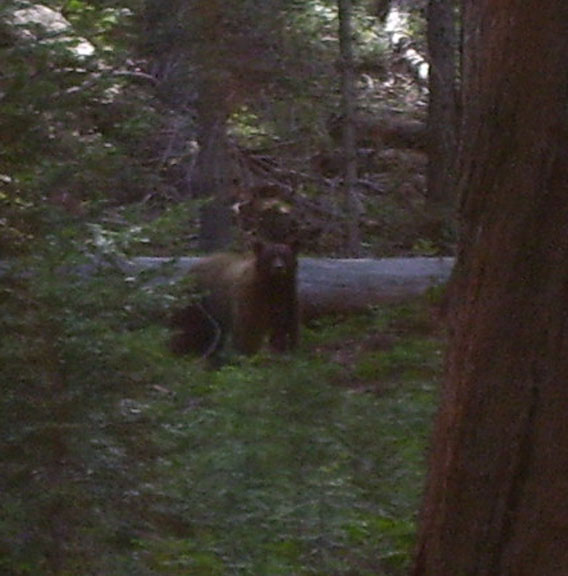 Here's a close-up of that shot. I wanted to get more pictures, but I didn't want to get too close. The bear decided for me, and instantly started to run away. I guess I am too scary. I tried to move in it's direction to see if I could get some more pics, but he was sooooo fast! I found out later that they can run 35-40mph!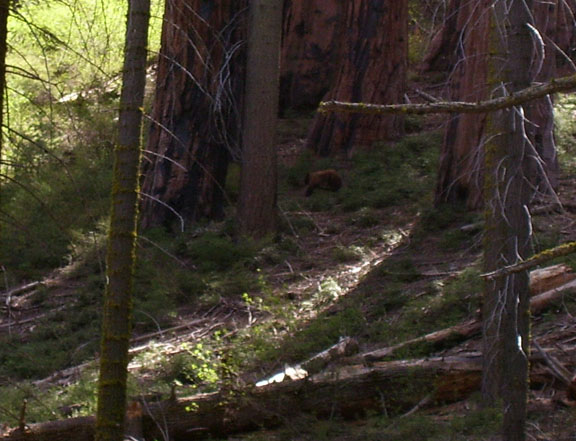 There's the bear running from me, far away (my camera is on zoom). Just before I took this picture, the bear had jumped sideways and I heard a hiss-like growling type noise. Now I am wondering if the bear had run into a mountain lion or a wild cat. He ran faster after that, though!
So, now I have a huge adrenaline rush, and watch the forest carefully as I move on. I felt a bit like Dorothy from the Wizard of Oz, thinking to myself "lions and tigers and bears, oh my..."
I made it safely back to the parking lot, then headed back up the bumpy dirt road, and made my way to Uncle Gene's. On the way, I had one more animal sighting: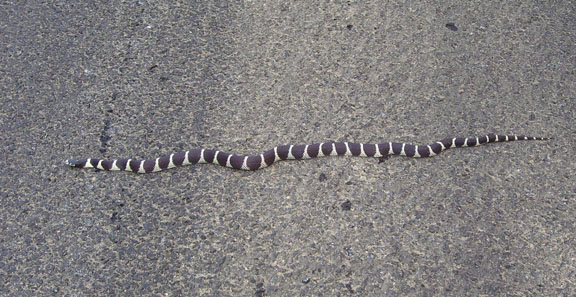 This snake was laying just like this across my path on the country road I was on. I pulled over to take his picture, and I wondered if he was dead. I approached him, and my shoes caught on gravel, making a lot of noise. this was his response: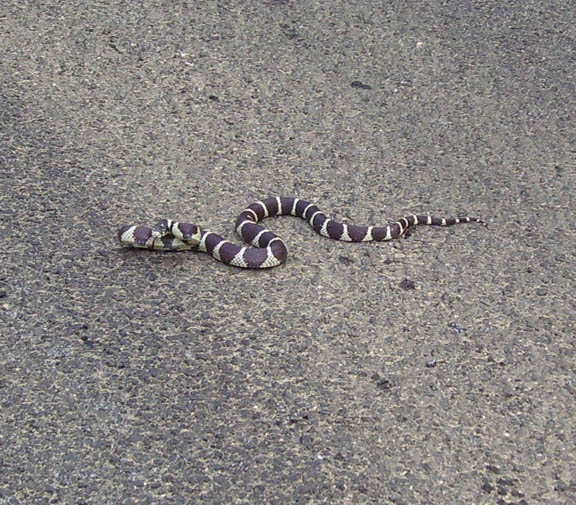 ok, not dead, not dead (as his tounge flickers at me, and his tail wiggles). I told him to be careful in the road, and I got in my car and drove away.
Uncle Gene was waiting for my arrival when I got back, and he took me on a bit of a tour of the town of Reedley where he used to live with his wife Jody before she passed away. Uncle Gene took me to his favorite dinner restaurant, and I got to meet the owner. Gene's lady friend joined us for dinner once we were there. Her name is Dorothy, and she is very nice.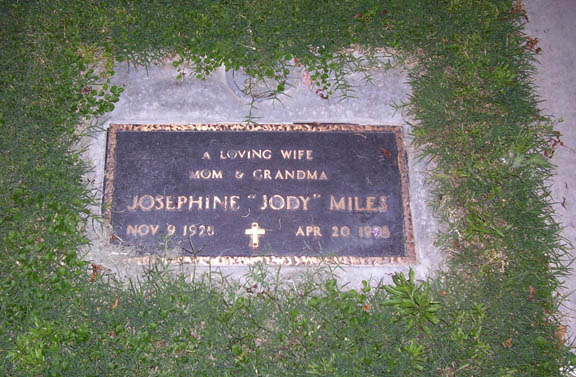 On the way back to Uncle Gene's house, we stopped to see Aunt Jody's grave. She is buried in the veterans section of the cemetery. A week later, Uncle Gene would be leading the procession at the cemetery for Memorial Day.
DAY 3 | KINGS CANYON | ADVENTURES | HOME