Crazy Beautiful Day 6 Part II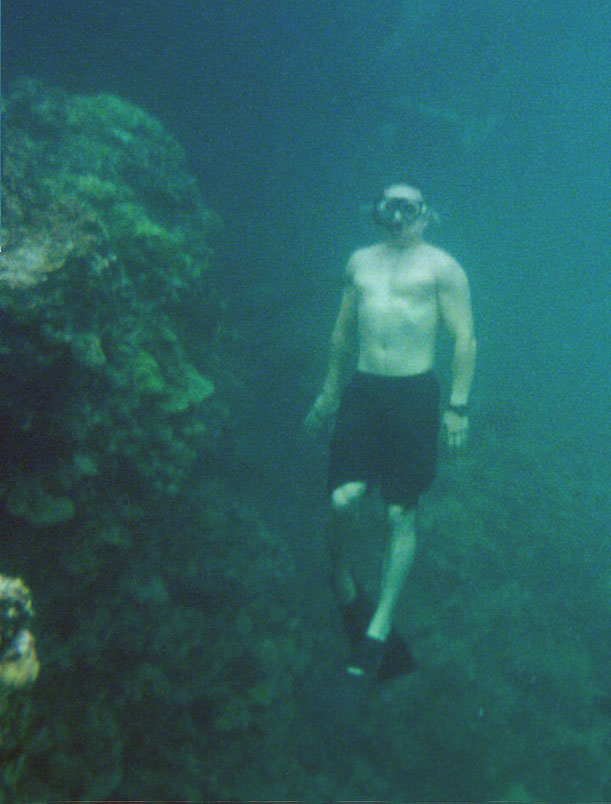 Back in the water after lunch in Turtle Town, Adam swims next to a coral reef.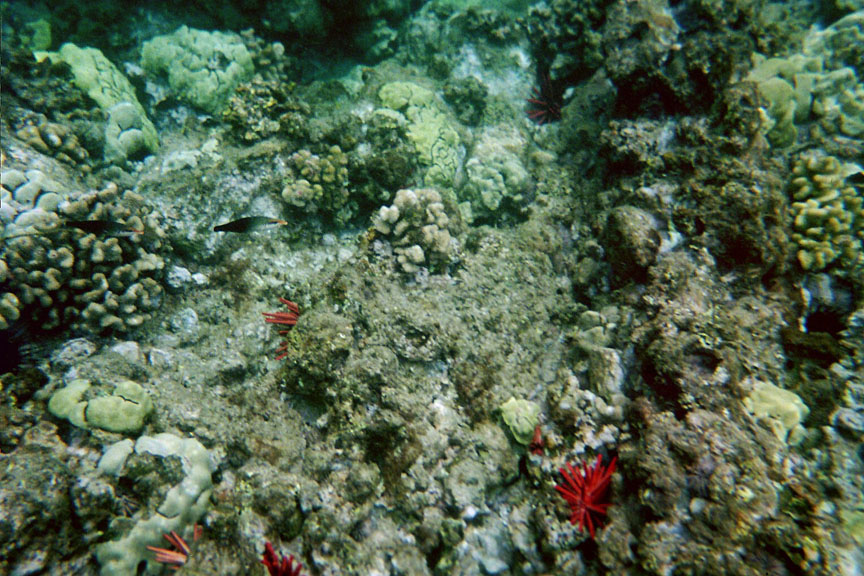 Coral reef at Turtle Town, with a couple of fish that I believe are types of Wrasses.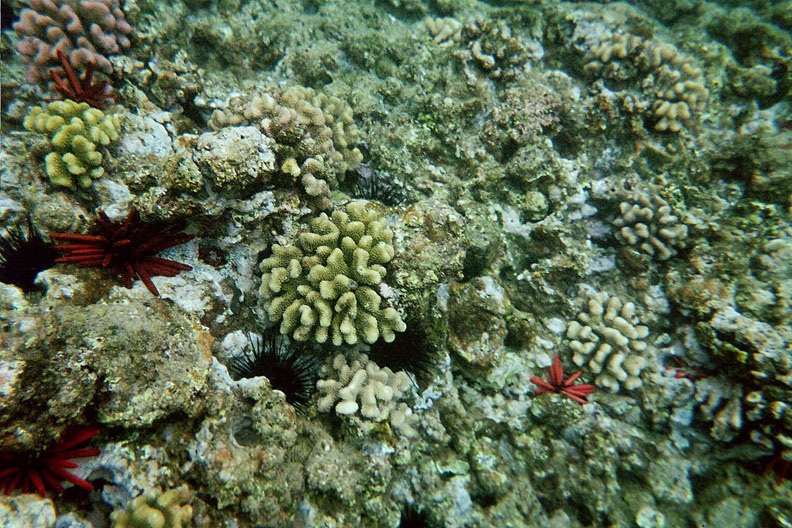 More of the coral reef with Sea Urchin.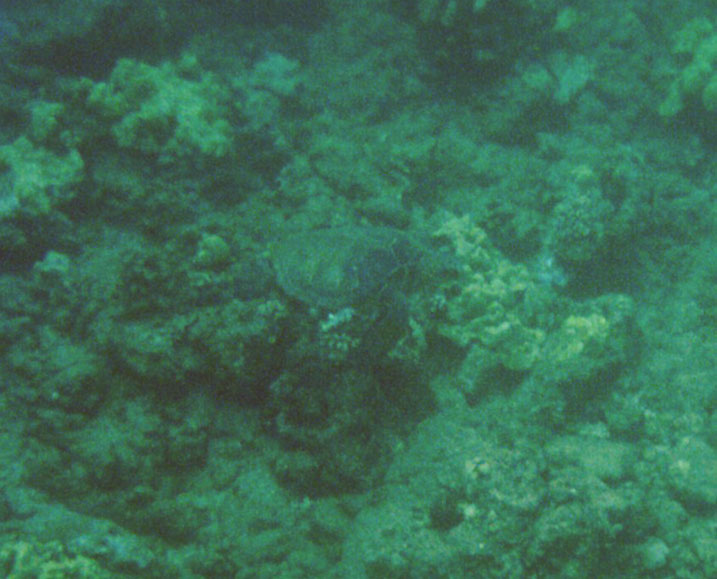 Look closely, this is my first site of a turtle deep below me at Turtle Town.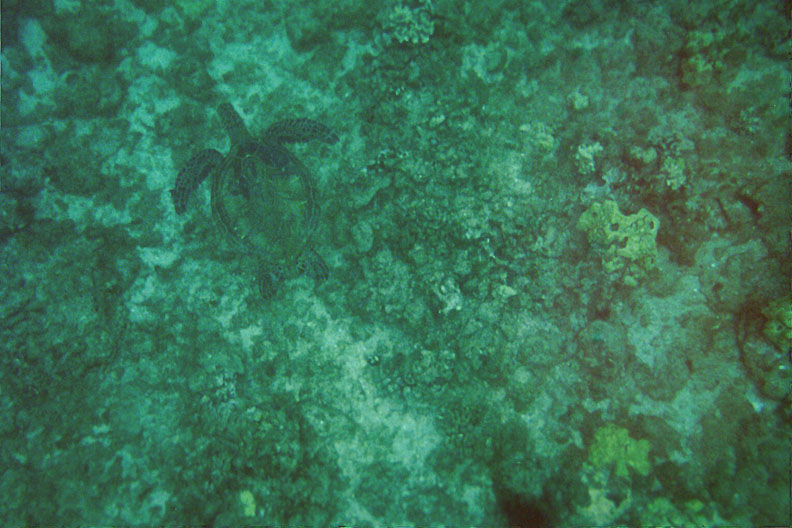 There is another Sea Turtle, this one swam with me for a bit.
I let the turtle lead me.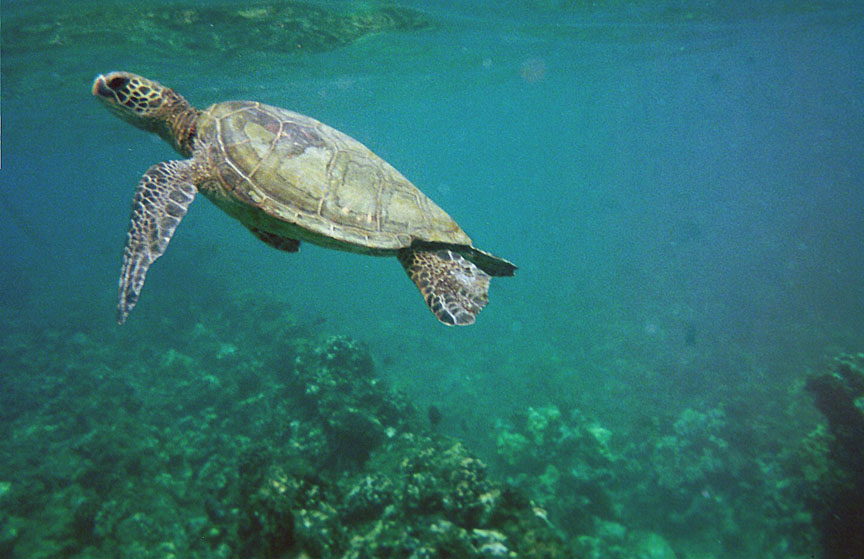 We came up for air together.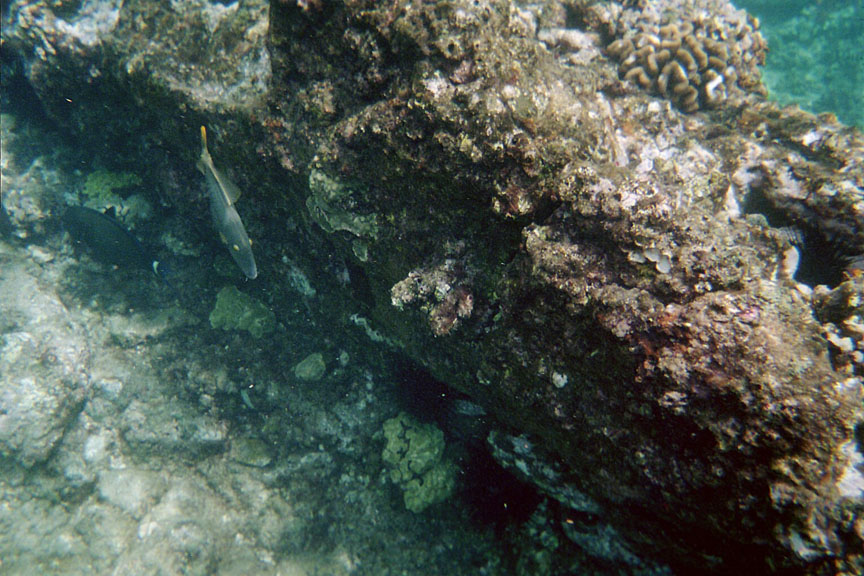 I think the lighter fish is an Eye-Stripe Surgeonfish, and I think the darker one is a type of Grouper.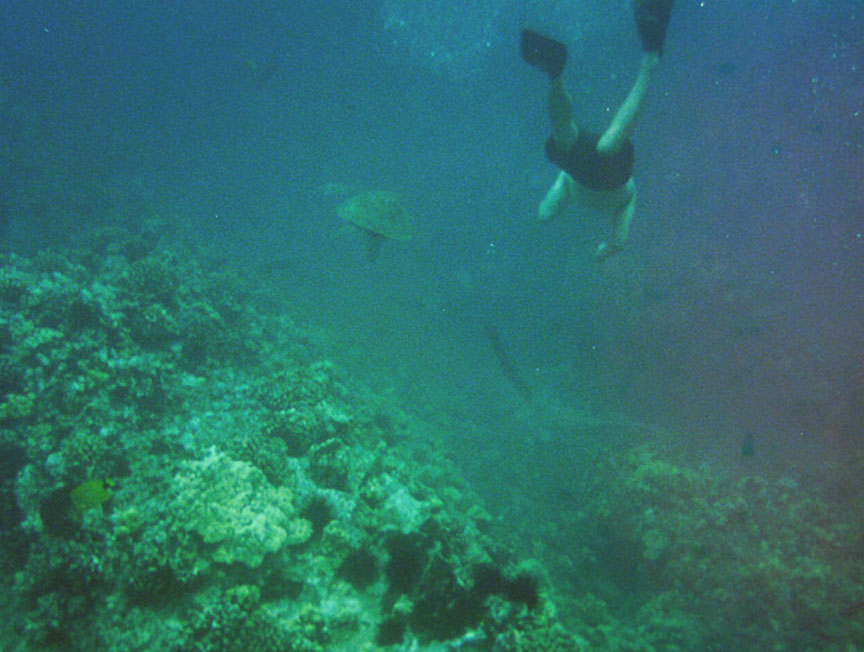 Adam swimming with a Sea Turtle, and a Longnosed Butterfly Fish to the left.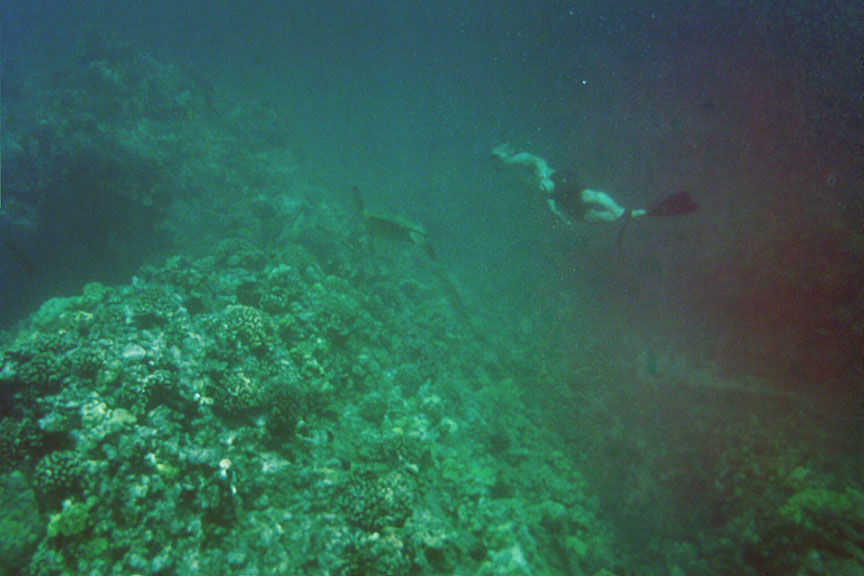 Adam and the Sea Turtle swimming.
After Turtle Town, we got back in the boat, and on the cruise back to the harbor, there was an open bar with as many Mai-Tais and cups of beer as you want (included in the whole package price!). Also they served cookies and juice.
When we got back, we decided we wanted to have fun at the beach still, so we went to Snorkel Bob's, and rented boogie boards. We took them to the beach we had gone to with Lara, Makena Beach, or Big Beach.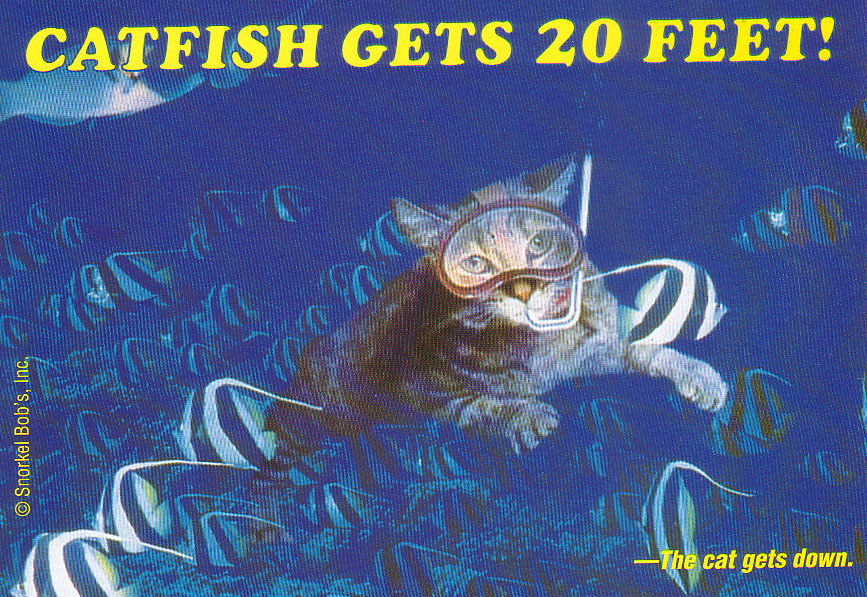 I got this post card at Snorkel Bob's.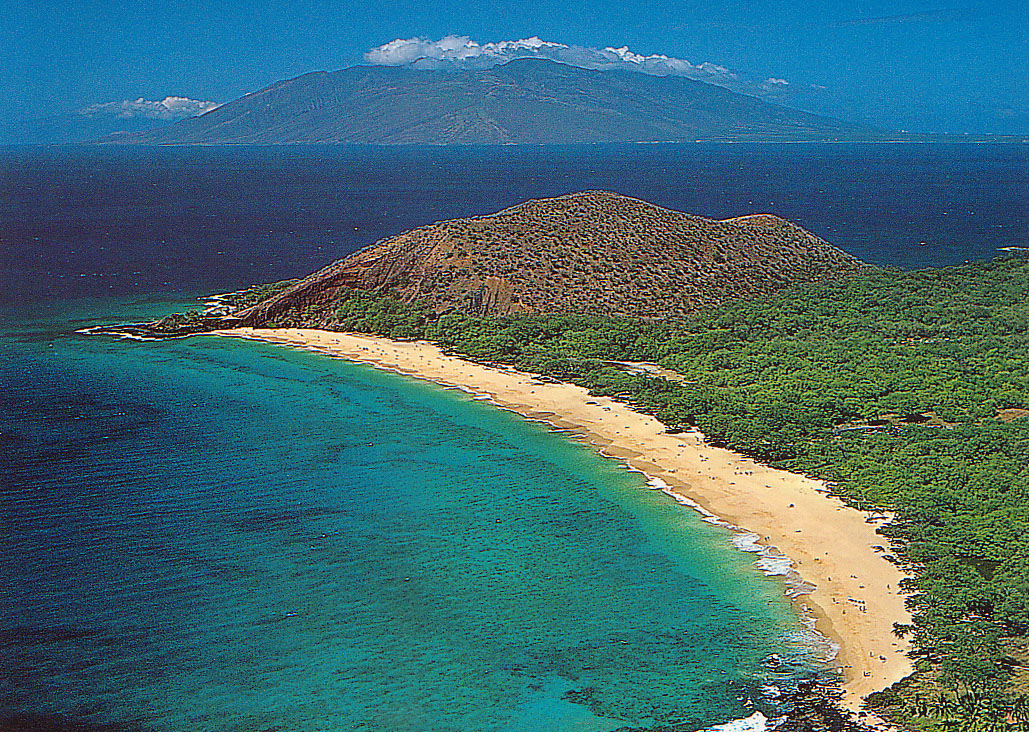 This is a post card of Makena Beach, otherwise known as Big Beach.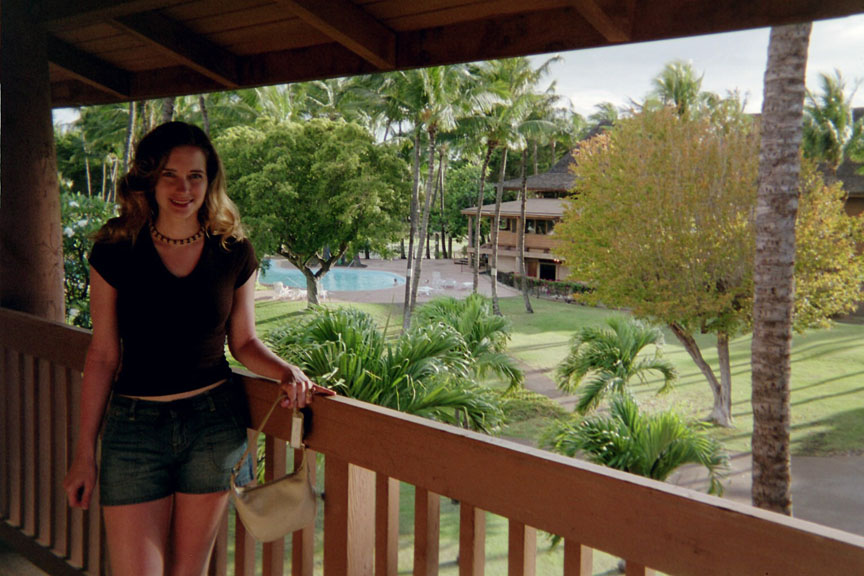 After the beach, we went back and got washed up for dinner at Sansei Sushi. This is me outside our room at the hotel.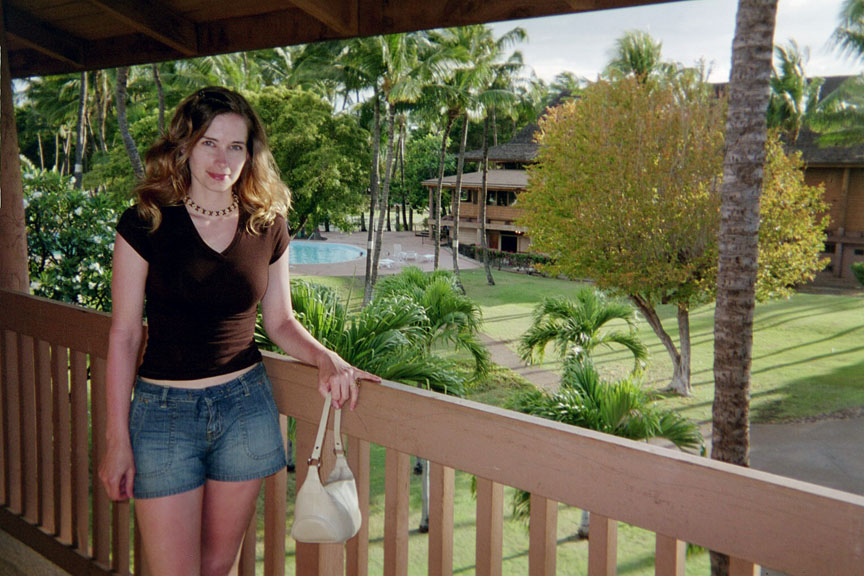 Here's another shot of me ready to go eat for my birthday. My necklace is made of coconut, and I bought it in Hana.
Dinner was good, we sat at the sushi bar, and our chef was good. After we got half way through ordering, he asked us if we were from California, or the LA area. We laughed, and said yes, and asked how he knew. He said he could tell by the way we order our sushi, and what types of sushi we order.
It was a very nice 30th birthday.
DAY 7 | DAY 6 PART I | MAUI MAIN PAGE | ADVENTURES | HOME