Crazy Beautiful Day 4 Part II
After washing up from the morning hike, Adam and I picked up Lara and headed for the West Coast of Maui, to a town called Lahaina. We are to meet Lara's friend Barbara and her son Dustin at a Luau that we reserved seats at that morning, called The Feast at Le Le.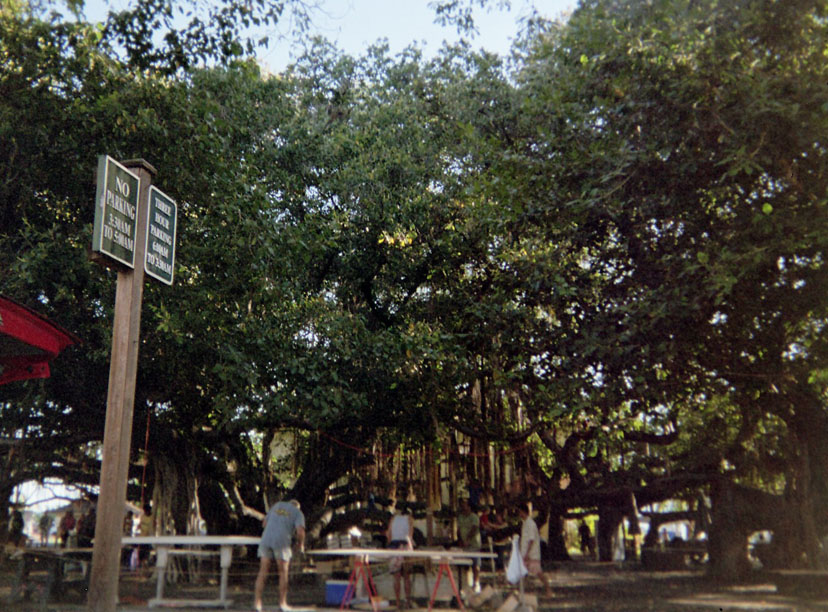 This is one of the biggest Banyan trees on earth. It may look like a grove of trees, but this is actually one BIG tree (remember the branches drop roots that plant and look like tree trunks).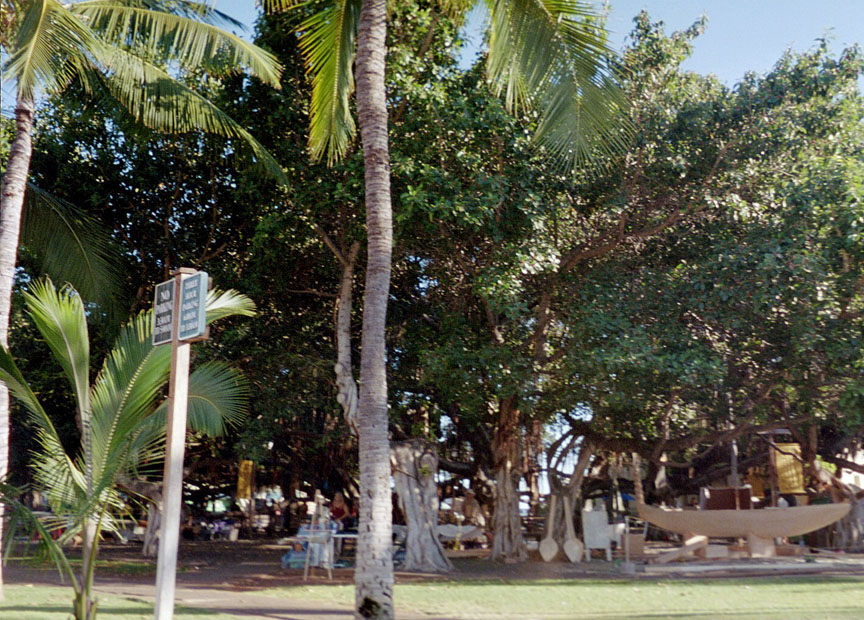 More of the banyan tree. There is a festival going on, where they are carving boats under the tree.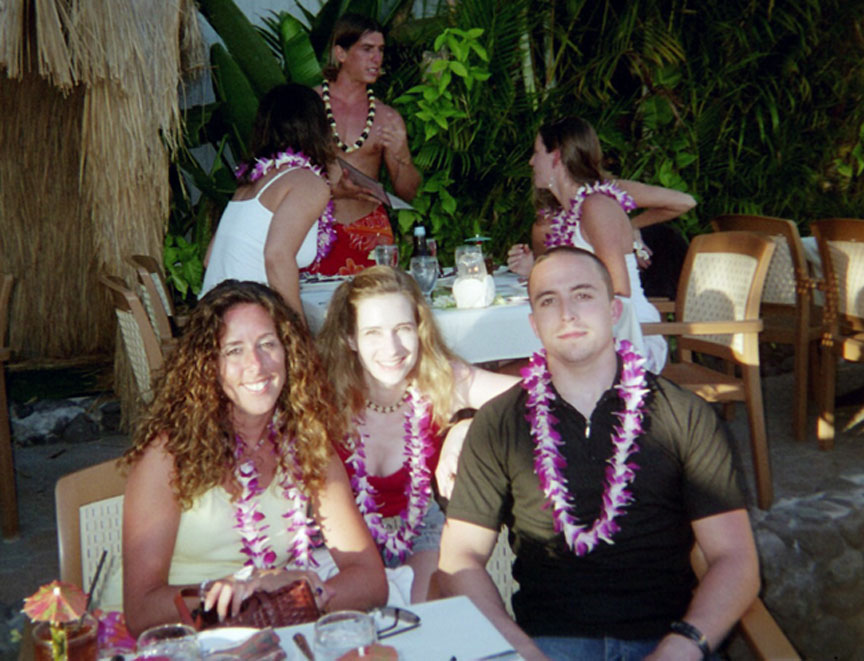 Lara, Me, and Adam at the Luau
The Luau (The Feast at Le le) was very entertaining, and the food was scrumptious! The evening was divided into 4 sections, each a geographical theme. The first was Hawai'i, then Aotearoa (native New Zealand), Tahiti, then Samoa. For each, the dancers would wear costumes from that region, and dance native dances from that region while music from the region played, and food from the region was served.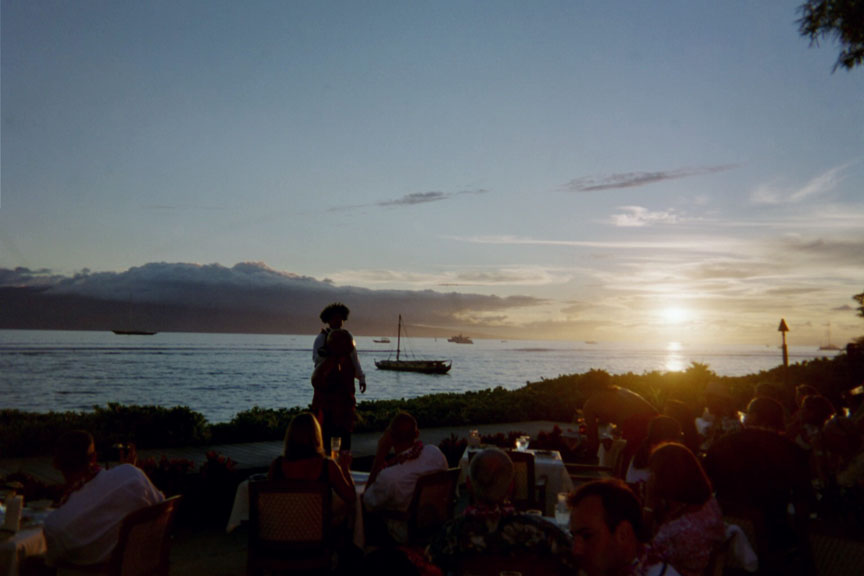 The sun is setting, and the festivities begin. This man blew a concha horn to commence the show. Moloka'i is the island behind him. We are served sweet potato and banana chips.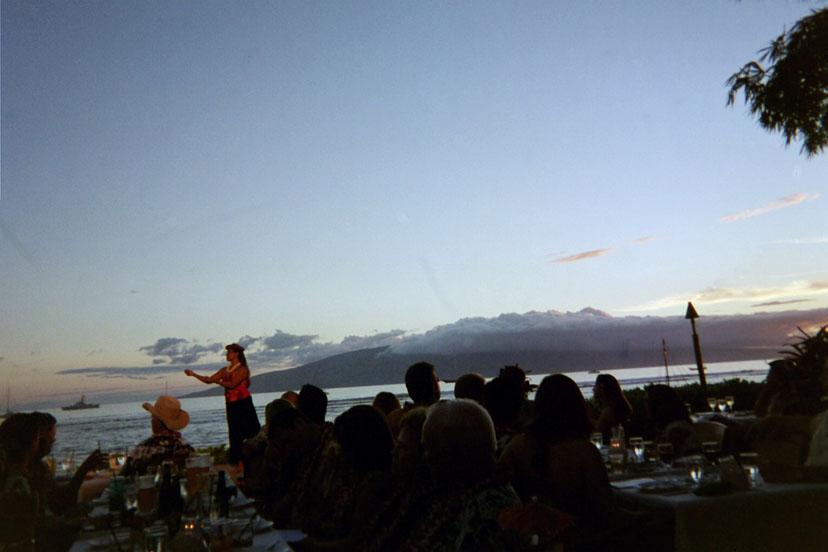 A woman performs a hula dance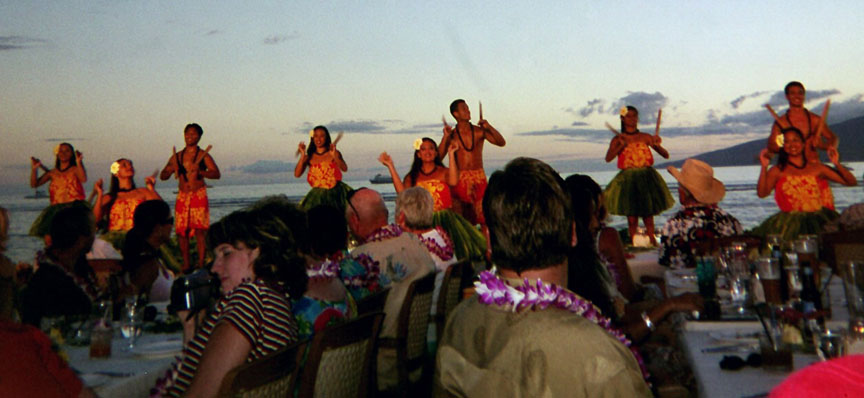 The Hawaiian dancing. During this Hawaiian show, we are served: Kalua Pork, slow roasted in an underground oven and shredded; Pohole Fern Shoots and Hearts of Palm Salad; and Seared Island Fish, served with a mango sauce and tropical fruit salsa. Of course, there are free flowing Mai Tai's and beer, as the Luau price includes an open bar.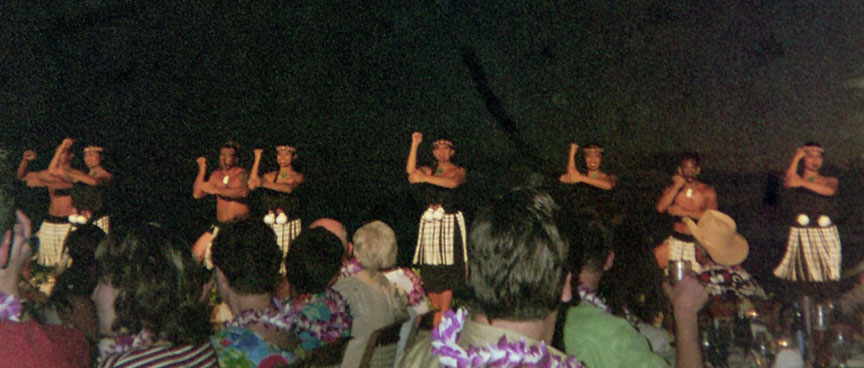 This is the Aotearoa Dance (native New Zealand). This is actually supposed to be like a war dance. The men's faces are painted with war paint. There dance is supposed to scare the enemy off. Our meal from this region includes: Sea Bean Duck Salad with Poha Berry Dressing; Kuku Patties-- a fishcake with salmon, mussels and scallops served with a Manuka honey corn relish; and Harore Kumara-- roasted mushrooms, orange sweet potato, onions and garlic. (my mouth is sooo watering as I'm typing all the food we ate)

Tahiti dress and dance. The head dresses were huge! Our meal for this part included Fafa-- steamed chicken and taro leaf in coconut milk; E'iota, poisson cru-- marinated fish; and Scallops on the Shell.

Samoa is the final section, and our food includes: Palusami-- breadfruit cooked with young taro leaf in coconut cream; Supasui-- grilled steak served with a soy, ginger and guava glaze; and Fresh shrimp with avocado and papaya in a passion fruit dressing. YUM. I don't know if you are noticing, but as the night wears on, and the Mai Tai's add up, my photography skill begins to suffer worse each time! I was a little off by the time I got to this Samoan section!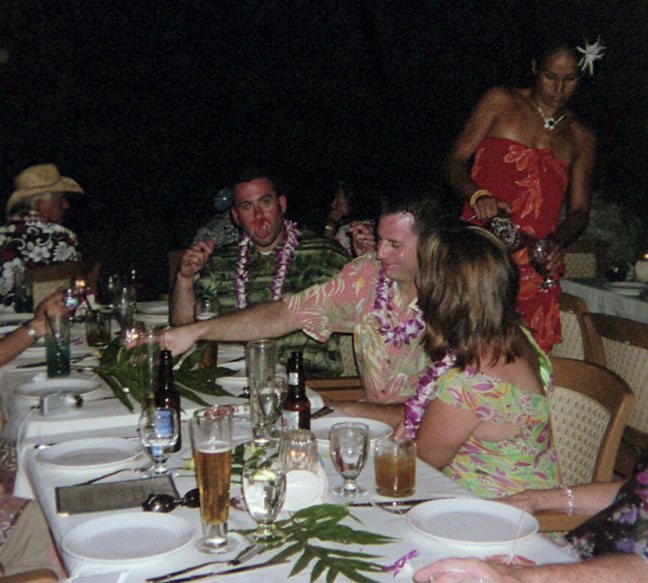 This is a guy at a table next to ours with umbrellas in his nose. I think he was enjoying his mai tai's too. By the way, I recognized this same man 2 days later on the same snorkel cruise we were on!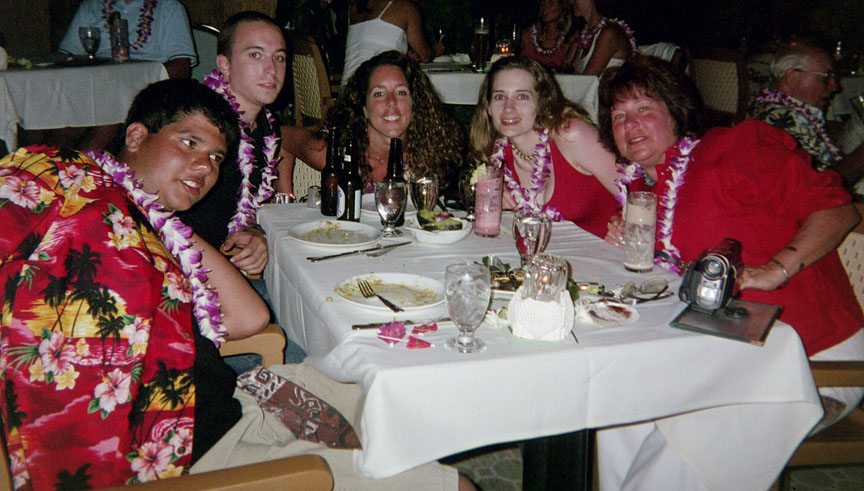 Starting to see sunburns! Left to Right: Dustin, Adam, Lara, Kristi (me), and Barbara. We were about to enjoy dessert, which included: Caramel Macadamia Nut Tart, Papaya Coconut Haupia Pudding, Fresh Tropical Fruits, and a Vintage Chocolate Truffle. This entire meal was one of the best meals I've had in my entire life. big big YUM.
We sat and visited for a bit after the show, then Lara, Adam, and I went to a bar close to where we were staying and had some drinks and sushi. We found that Lara is from Philadelphia, PA, and her last day is the next day, Sunday, and our day 5.
DAY 5 | DAY 4 PART I | MAUI MAIN PAGE | HOME